Mobile Radar Outfit' for
26th February 1960
Page 147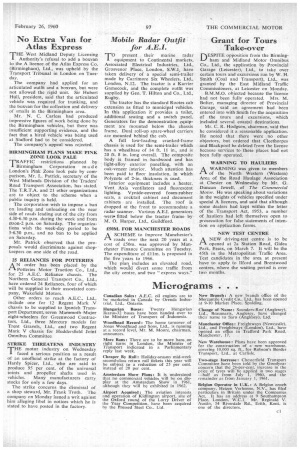 Page 147, 26th February 1960 —
Mobile Radar Outfit' for
Close
TO present their marine radar equipment to Continental markets, Associated Electrical Industries, Ltd., Grosvenor Place, London, S.W.1, have taken delivery of a special semi-trailer made by Carrimore Six Wheelers, Ltd., London, N.12. The tractor is a Karrier Gamecock, and the complete outfit was supplied by Geo. T. Hilton and Co., Ltd., Rugby.
The tractor has the standard Rootes cab extension as fitted to municipal vehicles. In this application it provides a toilet, additional seating and a switch panel. Generators for the demonstration equipment are mounted below the chassis frame. Dual roll-up spare-wheel carriers are mounted behind the cab.
A full low-loading cranked-frame chassis is used for the semi-trailer which has a wheelbase of 14 ft. 11 in., and is 20 ft. 8 in. long overall. The composite body is framed in hardwood and has light-alloy exterior panelling, with an oak-veneer interior. Much attention has been paid to floor insulation, in which Polyzote of 2-in, thickness is used.
Interior equipment includes a heater, Vent Axia ventilators and fluorescent lighting. Vynide-covered foam-rubber seats, a cocktail cabinet and document cabinets are installed. The roof is dropped at the front to accommodate a radar scanner. Various A.E.I. generators were• fitted below the tractor frame by M. 0. Harper, Ltd., Guildford.
ISOM. FOR MANCHESTER ROADS A SCHEME to improve Manchester's roads over the next 20 years at a cost of £50m. was approved by Manchester Finance Committee on Tuesday. The expenditure of £11m. is proposed in the five years to 1966.
The plan includes an elevated road, which would divert some traffic from the city centre, and two "express ways."