Micrograms . . .
26th February 1960
Page 147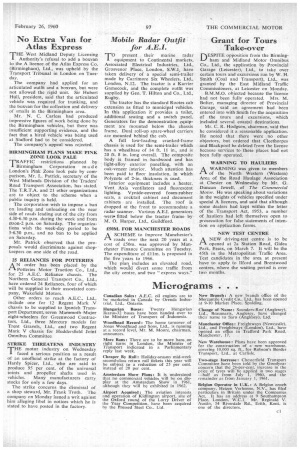 Page 147, 26th February 1960 —
Micrograms . . .
Close
Keywords :
Canadian Sales: A.E.C. oil engines are to be marketed in Canada by Orenda Industrial, Ltd., Ontario.
Hungarian Buses: Twenty Hungarian lkarus-32 buses have been handed over to the Minister of Transport of Indonesia.
Woodhe,ad Record: The home turnover of Jonas Woodhcad and Sons, Ltd., is running at a record level. Mr. M. Moore, chairman, announces.
More Bans: There are to be more bans on right turns in London, the Minister of Transport indicated in a Parliamentary reply last week.
Cheaper By Rail: Holiday-season mid-week second-class return rail tickets this year will be subject to a reduction of 25 per cent. instead of 20 per cent.
Amsterdam Show Plans: It is understood that no commercial vehicles will be on display at the Amsterdam Show in 1961, although they will be exhibited in 1962.
Airport Acquired: The aviation interests and operation of Kidlington airport, site of the Oxford round of the Lorry Driver of the Year Competition, have been acquired by the Pressed Steel Co.. Ltd.
New Branch: A new branch office of the Mercantile Credit Co., Ltd., has been opened at 9-10 Market Place, Spalding.
Change of Name: Saunders-Roe' (Anglesey), Ltd., Beaumaris, Anglesey, have changed their name to Saro (Anglesey), Ltd.
Manchester Office: Freightways (Newcastle), Ltd., and Freightways (London), Ltd., have opened an office in Trafford Park Road, Manchester, 17.
New Warehouse: Plans have been approved for the construction of a new warehouse, covering 10.000 sq. ft., for Robson's Border Transport, Ltd.. at Carlisle.
Two-stage Increase: Chesterfield Transport Committee have been told by the Goodyear concern that the 24-per-cent. increase in the price of tyres will be applied in two stages —half as from July 1, 1960, and the remainder as from January 1, 1961.
Belgian Operator in U.K.: A Belgian coach company. Heizen Verhenne, N.V.. has filed particulars in Britain under the Companies Act. It has an address at 9 Southampton Place, London, W.C.I. Mr. Reginald V. Austin. 54 Riverdale Rd.. Erith. Kent, is one of the directors.