Ex-haulier Buys Back His Business
26th February 1954
Page 31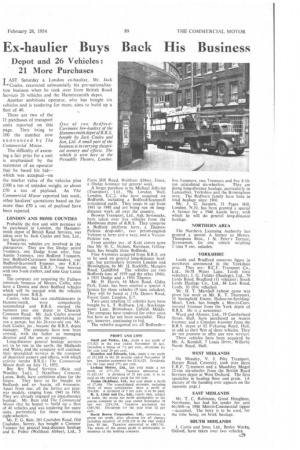 Page 31, 26th February 1954 —
Ex-haulier Buys Back His Business
Close
Keywords :
Depot and 26 Vehicles: 21 More Purchases
y AST Saturday a London ex-haulier, Mr. Jack -1–'Coales, recovered substantially his pre-nationalization business when he took over from British Road Services 26 vehicles and the Hammersmith depot.
Another ambitious operator, who has bought six vehicles and is tendering for more, aims to build up a fleet of 40.
These are two of the 21 purchases of transport units reported on this page. They bring to 100 the number now announced by The Commercial Motor.
The difficulty of assessing a fair price for a unit is emphasized by the statement of an operator that he based his bid— which was accepted—on the market value of the vehicles plus £100 a ton of unladen weight, or about £50 a ton of payload. As The Commercial Motor reported last week, other hauliers' quotations based on far more than £50 a ton of payload have been rejected.
One of two BedfordCar rimore low-loaders of the Harnmersmithdepot of B.R.S. bought by Jack Coales and Son, Ltd. A small part of the business is in carrying theatrical scenery and effects. The vehicle is seen here at the Piccadilly Theatre, London.
LONDON AND HOME COUNTIES
Probably the .first unit with premises to be purchased in London, the Hammersmith depot of British Road Services, was taken over by Jack Coales and Son, Ltd.. last Saturday.
Twenty-six vehicles are involved in the changeover. They are five Dodge petrol 5-tonners, one Dodge 6-ton oiler, four Austin 5-tonners. two Bedford 5-tormers, two .Bedford-Carrimore low-loaders, one Bedford-Scammell 8-tonner, one E.R.F. pantechnicon, one E.R.F. 7-ton boxvan with two 5-ton trailers, and nine Guy Luton vans.
The company arc acquiring the Fulham removals business of Messrs_ Collis, who have a Dennis and three Bedford vehicles which will be merged with the vehicles acquired from B.R.S.
Coales, who had two establishments in
Hammersmith, were compulsorily nationalized and B.R.S. merged the business into one depot in Chiswick Common Road. Mr. Jack Coalcs severed his .connection with the undertaking to run a garage, but his 20-year-old son. Mr. Jack Coales, jnr., became the B.R.S. depot manager. The company have now been revived, with the father as managing director and the son as manager.
Long-distance general haulage services are to be run to the north, the Midlands and Wales, and the company will continue their specialized services in the transport of theatrical scenery and effects, with which activity (under B.R.S.) The Commercial Motor dealt on July 31, 1953.
Bee Bee Road Services (Bain and Woolley. Ltd.). 2 Hazelbury Crescent, Luton, Beds, have ambitious plans for the
future. They have so far bought six Bedfords and an Austin, all 6-tonners. Apart from one, all the lorries are postwar models, ranging from 1945 to 1950. They are already engaged on long-dislance haulage. Mr. Bain told The Commercial Motor that he hoped to build up a fleet of 40 vehicles and was tendering for more units, particularly for those containing eight-wheelers.
Mr. E. G. Bale, 261 Coulsdon Road, Old Coulsdon, Surrey, has bought a Commer 7-tonner for general long-distance haulage and E. Fisher (Waltham Abbey), Ltd., 5
Farm Hill Road, Waltham Abbey, Essex, a Dodge 6-tonner for general work.
A larger purchase is by Michael Jeffcries (Transport), 1.td., . 59a London Wall, London, E.C.2,• who have acquired six Bedfords, including a Bedford-Scammell articulated outfit. They range in age from 1941 to 1948 and are being run on longdistance work all over the country.
Browns Transport, Ltd., Ash, Sevenoaks, have taken over five vehicles from the Maidstone depot of B.R.S. They comprise a Bedford platform lorry, a ThamesPerkins drop-sider, two petrol-engined Vuleans (a lorry and a van), and a VulcanPerkins van.
From another parof Kent comes news that Mr. H. C. Nichols, Ranham, Gillingham, has bought three Bedfords. •
Four 6-tonners acquired from B.R.S. are to be used on general long-distance haulage, but particularly between London and Birmingham, by Mr. H. Rackliffe, Mangles Road, Guildford The vehicles are two Bedfords (one of 1939 and the other 1946), a 1953 Dodge and a 1950 Thames.
Mr. H Harris, 64 Main Road, Gidca Park, Essex. has been granted a special A licence for three vehicles (9 tons unladen). They will he based at 118a Dames Road, Forest Gate, London, E.7.
Two units totalling 12 vehicles have been bought by L. T. Redburn. Ltd., Stockingswater Lane, Brimsdown, Enfield, Middx. The company have tendered for other units but. have so far not been successful. They arc. however, continuing to bid.
The vehicles acquired are all Bedfords
live 5-tanners, two 7-tonners and five 8-10
ton articulated six-wheelers. They are doing long-distance haulage, particularly to Lancashire, Yorkshire and the Birmingham area. The Redburn family have been in road haulage since 1900.
Mr. J. G. Jacques, 31 Pages Hill, London, N.10, has been granted a special A licence for a 1946 Austin lorry, with which he will do general long-distance haulage.
NORTHERN AREA The Northern Licensing Authority has granted a special A licence to Messrs. Thompson Bros., 1 St. Peter's Terrace, Scremerton. for one vehicle weighing 2 tons 9 cwt. unladen.
YORKSHIRE
Leeds arid Bradford concerns figure in purchases announced in the Yorkshire area. They are B.C.F. Transport Co., Ltd., 56-58 Water Lane, Leeds (two vehicles); J. G. Fielder (Haulage), Ltd., 74 Leeds Road, Bradford (11 vehicles); South Leeds Haulage Co_ Ltd., 84 Low Road, Leeds, 10 (five vehicles),
Mr. H. T. Marshall (whose name was given last week as Mr. K. T. Thornton), 10 Springfield Estate, Holme-on-SpaldingMoor, York, has bought a Morris-Commercial 5-tonner from the York depot of B.R.S. He is a newcomer.
Ward and Akester, Ltd., 19 Cumberland Street, Hull, have purchased an Austin 6-tonner and a Commer 6-tonner from the B.R S. depot at 82 rckering Road, Hull, to add to their facet of three vehicles. They do not propose to offer any new services.
Three vehicles have been acquired by Mr. A. Kendall, 7 Louis Drive, Willerby North Road, Hull.
WEST MIDLANDS
On Monday, V. J. Pike Transport, Harper Road, Coventry, took over three E.R.F. 71-tonners and a Maudslay Mogul 12-ton six-wheeler from the British Road Services depot at West Orchard. The firm specialize in hauling flour and grain. IA picture of the handing over appears on the opposite page.]
EAST MIDLANDS Mr. T. C. Robinson, Great Houghton, Northants, has had his tender for unit 66/604—a 1946 Morris-Commercial tipper —accepted. The lorry is to be used, for the time being, on brick haulage.
SOUTH MIDLANDS J. Curtis and Sons, Ltd., Botley Works, Oxford, have taken over two vehicles.
Tags
People
:
Bain
,
H. T. Marshall
,
Jack
,
Michael Jeffcries
,
A. Kendall
,
Guy Luton
,
T. C. Robinson
,
H. Rackliffe
,
J. G. Jacques
,
H. C. Nichols
,
K. T. Thornton