PETER SMITH has succeedE Duncan Shann as chief mot transport
26th December 1981
Page 4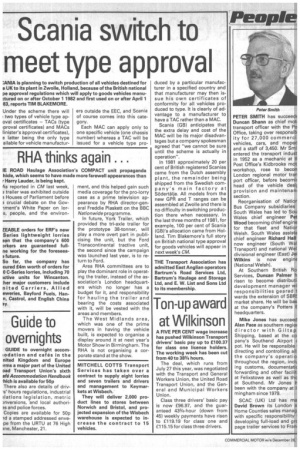 Page 4, 26th December 1981 —
PETER SMITH has succeedE Duncan Shann as chief mot transport
Close
officer with the Po Office, taking over responsib ity for 27,000 commerci vehicles, cars, and moped and a staff of 3,450. Mr Smi entered the transport induct in 1952 as a mechanic at ti Post Office's Kidbrooke mot .workshop, rose to becon London regional motor tran port officer, before becomir head of the vehicle desit provision and maintenam section.
Reorganisation of Natior Bus Company subsidiaries South Wales has led to Sou Wales chief engineer Pet Wood becoming chief engine for that fleet and Natior Welsh. South Wales assista chief engineer Richard Hall now engineer (South Wel Transport) and national Wel divisional engineer (East) Jol Wilkins is now enginE (National Welsh).
At Southern British Ro Services, Duncan Palmer h risen to become distributi. development manager wi responsibilities geared t wards the extension of SBR! market share. He will be bas at the company's Potters E headquarters.
Mike Jones has succeed Alan Pace as southern regior director with Giltsp Shipping, based at the co pany's Southend Airport c pot. He will be responsible • directing and controlling all the company's operatio throughout the region, inch. ing customs, documentatic forwarding and other faciliti at Felixstowe as well as the at Southend. Mr Jones h been with the company at mingham since 1979.
SCAC (UK) Ltd has ma David Brown its London a Home Counties sales manag with specific responsibility developing full-load and gmc page trailer services to Fran.