Steel talks
26th December 1975
Page 9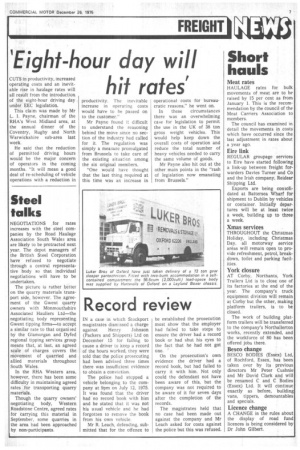 Page 9, 26th December 1975 —
Steel talks
Close
NEGOTIATIONS , for rates increases with the steel companies by the Road Haulage Association South Wales area are likely to be protracted next year. The depot managers of the British Steel Corporation have refused to negotiate through a central representative body so that individual negotiations will have to be undertaken, The picture is rather better on the quarry materials transport side, however. The agreement of the Gwent quarry owners with Monmouthshire Associated Hauliers Ltd—the negotiating body representing Gwent tipping firms—to accept a similar rate to that organised by the Glamorgan and Dyfed regional tipping services group means that, at last, an agreed scale of charges covers the movement of quarried and allied materials throughout South Wales.
In the RHA Western area, however, there has been some difficulty in maintaining agreed rates for transporting quarry materials.
Though the quarry owners' negotiating body, Western Roadstone Centre, agreed rates for carrying this material in September, some quarries in Ithe area had been approached by non-participants.