Short hauls
26th December 1975
Page 9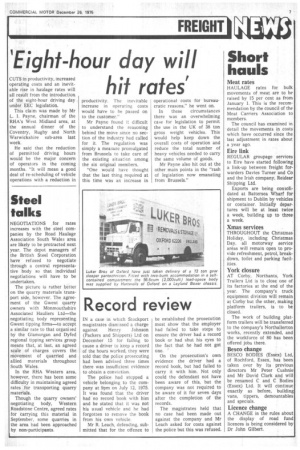 Page 9, 26th December 1975 —
Short hauls
Close
Meat rates
HAULAGE rates for bulk movements of meat are to be raised by 15 per cent as from January I. This is the recommendation by the council of the Meat Carriers Association to members.
The council has examined in detail the movements in costs which have occurred since the last adjustment in rates about a year ago.
Eire link
REGULAR groupage services to Eire have started following a link-up between freight forwarders Davies Turner and Co and the Irish company, Reidear Shipping Ltd.
Exports are being con§olidated at Battersea Wharf for shipment to Dublin by vehicles or container. Initially departures will be at least twice a week, building up to three a week.
Xmas services
THROUGHOUT the Christmas Holiday, including Christmas Day, all motorway service areas will remain open to provide refreshment, petrol, breakdown, toilet and parking facilities.
York closure
AT Corby, Northants, York Trailers Ltd is to close one of its factories at the end of the year. The company's truck equipment division will remain at Corby but the other, making platform trailers, is to be closed.
The work of building platform trailers will be transferred to the company's Northallerton works, recently extended, and the workforce of 80 has been offered jobs there.
Besco change
BESCO BODIES (Essex) Ltd, of Rochford, Essex, has been taken over by its previous directors Mr Peter Cushnie and Mr David Clark and will be renamed C and C Bodies (Essex) Ltd. It will continue exactly as before, building vans, tippers, demountables and specials.
Licence change
A CHANGE in the rules about the display of road fund licences is being considered by Dr John Gilbert.