Peter Thompson moves to NFC post
26th December 1975
Page 7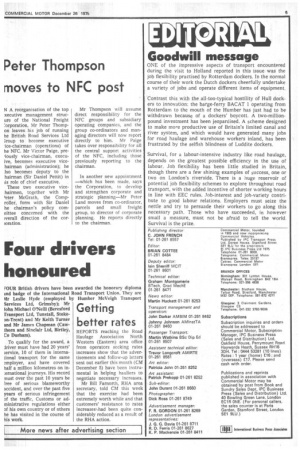 Page 7, 26th December 1975 —
Peter Thompson moves to NFC post
Close
N &reorganisation of the top xecutive management strucure of the National Freight 2orporation, Mr Peter Thompon leaves his job of running he British Road Services Ltd iroup to become executive ice-chairman (operations) of he NFC. Mr Victor Paige, preiously vice-chairman, execuive, becomes executive vicehairman (administration); he 'so becomes deputy to the hairrnan (Sir Daniel Pettit) in is role of chief executive.
These two executive vicehairmen, together with Mr 'eter McGrath, the Cornproller, form with Sir Daniel he chairman's policy comnittee concerned with the werall direction of the corioration. Mr Thompson will assume direct responsibility for the NFC groups and subsidiary operating companies, and the group co-ordinators and managing directors will now report directly to him. Mr Paige takes over responsibility for all the central support activities of the NFC, including those previously reporting to the chairman.
In another new appointment —which has been made, says the Corporation, to develop and strengthen corporate and strategic planning—Mr Peter Land moves from co-ordinator, parcels and small freight group, to director of corporate planning. He reports directly to the chairman.