Tyre prosecutions fail: no width measurement
26th December 1975
Page 6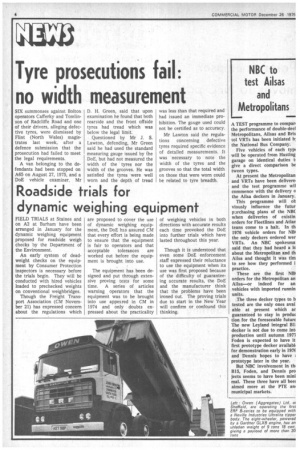 Page 6, 26th December 1975 —
Tyre prosecutions fail: no width measurement
Close
SIX summonses against Bolton operators Cafferky and Tomlinson of Radcliffe Road and one of their drivers, alleging defective tyres, were dismissed by Flint (North Wales) magistrates last week, after a defence submission that the prosecution had failed to meet the legal requirements.
A van belonging to the defendants had been stopped on A65 on August 27, 1975, and a DoE vehicle examiner, Mr D. H. Green, said that upon examination he found that both rearside and the front offside tyres had tread which was below the legal limit.
,Questioned by Mr J. S. Lawton, defending, Mr Green said he had used the standard measuring gauge issued by the DoE, but had not measured the width of the tyres nor the width of the grooves. He was satisfied the tyres were well worn and the depth of tread was less than that required and had issued an immediate prohibition. The gauge used could not be certified as to accuracy.
Mr Lawton said the regulations concerning defective tyres required specific evidence of detailed measurements. It was necessary to note the width of the tyres and the grooves so that the total width on those that were worn could be related to tyre breadth.