Roadside trials for dynamic weighing equipment
26th December 1975
Page 6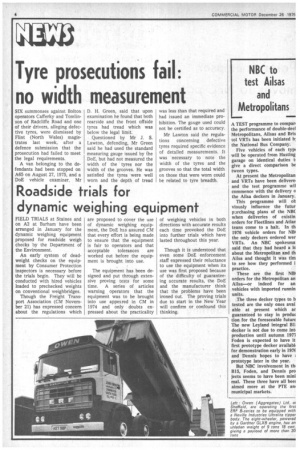 Page 6, 26th December 1975 —
Roadside trials for dynamic weighing equipment
Close
FIELD TRIALS at Staines and on A2 at Barham have been arranged in January for the dynamic weighing equipment proposed for roadside weigh checks by the Department of the Environment.
An early system of deadweight checks on the equipment by Consumer Protection inspectors is necessary before the trials begin. They will be conducted with hired vehicles loaded to prechecked weights on conventional weighbridges.
Though the Freight Transport Association (CM November 21) has expressed concern about the regulations which are proposed to cover the use of dynamic weighing equipment, the DoE has assured CM that every effort is being made to ensure that the equipment is fair to operators and that acceptable tolerances are worked out before the equipment is brought into use.
The equipment has been designed and put through extensive proving tests for some time. A series of articles warning operators that the equipment was to be brought into use appeared in CM in 1974 and only doubts expressed about the practicality of weighing vehicles in both directions with accurate results each time provoked the DoE into further trials which have lasted throughout this year.
Though it is understood that even some DoE enforcement staff expressed their reluctance to use the equipment when its use was first proposed because of the difficulty of guaranteeing accurate results, the DoE and the manufacturer think that the problems have been ironed out. The proving trials due to start in the New Year will confirm or confound this thinking.