Hazard load lesson
26th December 1975
Page 5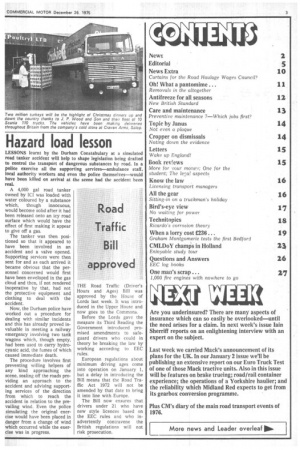 Page 5, 26th December 1975 —
Hazard load lesson
Close
LESSONS learnt by the Durham Constabulary at a simulated road tanker accident will help to shape legislation being drafted to control the transport of dangerous substances by road. In a police exercise all the supporting services—ambulance staff, local authority workers and even the police themselves—would have been killed on arrival at the scene had the accident been real.
A 4,000 gal road tanker owned by ICI was loaded with water coloured by a substance which, though innocuous, would become solid after it had been released onto an icy road surface which would have the effect of first making it appear to give off a gas.
The tanker was then positioned so that it appeared to have been involved in an accident and a valve opened. Supporting services were then sent for and as each arrived it became obvious that the personnel concerned would first have been enveloped in the gas cloud and then, if not rendered inoperative by that, had not the protective equipment and clothing to deal with the accident.
Now, the Durham police have worked out a procedure for dealing with similar incidents and this has already proved invaluable in meeting a railway emergency involving two tank wagons which, though empty, had been used to carry hydrocyanic acid, the fumes of which caused immediate death.
The procedure involves first preventing willing helpers of any kind approaching the scene, sealing off the roads providing an approach to the accident and advising supporting services of the direction from which to reach the accident in relation to the prevailing wind. Even the police simulating the original exercise would have been placed in danger from a change of wind which occurred while the exercise was in progress.