Change rail to road and save £1,500 million
26th December 1975
Page 4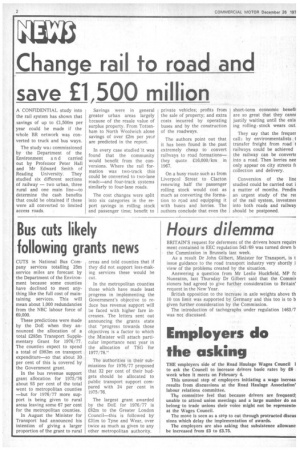 Page 4, 26th December 1975 —
Change rail to road and save £1,500 million
Close
A CONFIDENTIAL study into the rail system has shown that savings of up to £1,500m per year could be made if the whole BR network was converted to truck and bus ways.
The study was commissioned by the Department of the Environment a n d carried out by Professor Peter Hall and Mr Edward Smith of Reading University. They studied six different sections of railway — two urban, three rural and one main line—to determine the cash benefits that could be obtained if these were all converted to limited access roads. Savings were in general greater urban areas largely because of the resale value of surplus property. From Tottenham to North Woolwich alone savings of over £2m per year are predicted in the report.
In every case studied it was found that the community would benefit from the conversions. Where the rail formation was two-track this could be converted to two-lane roads—and four-track systems similarly to four-lane roads.
The cost changes were split into six categories in the report savings in rolling stock and passenger time; benefit to private vehicles; profits from the sale of property; and extra costs incurred by operating buses and by the construction of the roadways.
The authors point out that it has been found in the past extremely cheap to convert railways to road formations— they quote £16,000/km in 1967.
On a busy route such as from Liverpool Street to Clacton renewing half the passenger rolling stock would cost as much as converting the formation to road and equipping it with buses and lorries. The authors conclude that even the short-term economic benefit are so great that they calm( justify waiting until the exis ing rollingstock wears out.
They say that the frequer calls by environmentalists t transfer freight from road t railways could be achieved the railway can be converte into a road. Then lorries nee only appear on city streets ft collection and delivery.
Conversion of the line studied could be carried out i a matter of months. Pendin an urgent study of the res of the rail system, investmer into both roads and railway should be postponed.