One man's reject...
26th December 1975
Page 29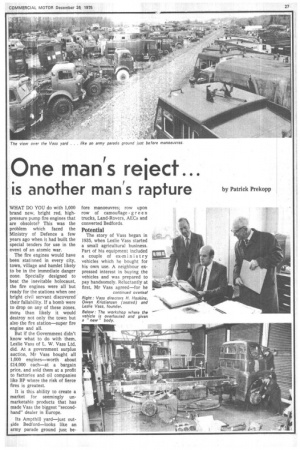 Page 30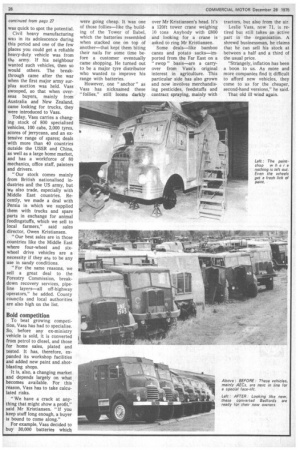 Page 29, 26th December 1975 —
One man's reject...
Close
is another man's rapture
by Patrick Prekopp
WHAT DO YOU do with 1,000 brand new, bright red, highpressure pump fire engines that are obsolete? This was the problem which faced the Ministry of Defence a few years ago when it had built the special tenders for use in the event of an atomic war.
The fire engines would have been stationed in every city, town, village and hamlet likely to be in the immediate danger zone. Specially designed to beat the inevitable holocaust, the fire engines were all but ready for the stations when one bright civil servant discovered their fallability. If a bomb were to drop on any of these zones, more than likely it would destroy not only the town but also the fire station—super fire engine and all.
But if the Government didn't know what to do with them, Leslie Vass of L. W. Vass Ltd, did. At a government surplus auction, Mr Vass bought all 1,000 engines—worth about C14,000 each—at a bargain price, and sold them at a profit to factories and oil companies like BP where the risk of fierce fires is greatest.
It is this. ability to create a market for seemingly unmarketable products that has made Vass the biggest "secondhand" dealer in Europe.
Its Ampthill yard—just outside Bedford—looks like an army parade ground just be fore manoeuvres; row upon row of camouflage -green trucks, Land-Rovers, AECs and converted Bedfords.
Potential
The story of Vass began in 1935, when Leslie Vass started a small agricultural business. Part of his equipment included a couple of ex-m inistry vehicles which he bought for his own use. A neighbour expressed interest in buying the vehicles and was prepared to pay handsomely. Reluctantly at first, Mr Vass agreed—for he was quick to spot the potential.
Civil heavy manufacturing was in its adolescence during this period and one of the few places you could get a reliable heavy-duty vehicle was from the army. If his neighbour wanted such vehicles, then so would others. The breakthrough came after the war when the first major army surplus auction was held. Vass swooped, so that when overseas buyers, mainly from Australia and New Zealand, came looking for trucks, they were introduced to Vass.
Today, Vass carries a changing stock of 800 specialised vehicles, 100 cabs, 2,000 tyres, scores of jerrycans, and an extensive range of spares; deals with more than 40 countries outside the USSR and China, as well as a large home market, and has a workforce of 80 mechanics, office staff, painters and drivers.
"Our stock comes mainly from British nationalised industries and the US army, but we also trade, especially with Middle East countries. Recently, we made a deal with Persia in which we supplied them with trucks and spare parts in exchange for animal feedingstuffs, which we sell to local farmers," said sales director, Owen Kristiansen.
"Our best sales are in those countries like the Middle East where four-wheel and sixwheel drive vehicles are a necessity if they are to be any use in sandy conditions.
"For the same reasons, we sell a great deal to the Forestry Commission, breakdown recovery services, pipeline layers—all off-highway operators," he added. County councils and local authorities are also high on the list.
Bold competition
To beat growing competition, Vass has had to specialise. So, before any ex-ministry vehicle is sold, it is converted from petrol to diesel, and those for home sales, plated and tested. It has, therefore, expanded its workshop facilities and added new paint and shotblasting shops.
It is, also, a changing market and depends largely on what. becomes available. For this reason, Vass has to take calculated risks.
"We have a crack at anything that might show a profit," said Mr Kristiansen. "If you keep stuff long enough, a buyer is bound to come along."
For example, Vass decided to buy .30.000 batteries which
were going cheap. It was one of those follies—like the building of the Tower of Babel, which the batteries resembled when stacked one on top of another—that kept them biting their nails for some time before a customer eventually came shopping. He turned out to be a major tyre distributor who wanted to improve his range with batteries.
However, one " anchor " as Vass has nicknamed these "follies," still looms darkly
over Mr Kristiansen's head. It's a 120ft tower crane weighing 10 tons Anybody with £800 and looking for a crane is asked to ring Mr Kristiansen.
Some deals—like bamboo canes and potato sacks—imported from the Far East on a " swop " basis—are a carryover from Vass's original interest in agriculture. This particular side has also grown and now involves merchandising pesticides, feedstuffs and contract spraying, mainly with tractors, but also from the air.
Leslie Vass, now 71, is retired but still takes an active part in the organisation. A shrewd businessman, he claims that he can sell his stock at between a half and a third of the usual price.
"Strangely, inflation has been a boon to us. As more and more companies find it difficult to afford new vehicles, they come to us for the cheaper, second-hand versions," he said.
That old ill wind again.