Q I drive a recovery vehicle NC which is over 3
26th December 1975
Page 28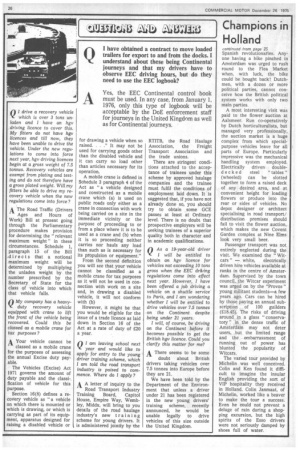 Page 28, 26th December 1975 —
Q I drive a recovery vehicle NC which is over 3
Close
tons unladen and I have an hgv driving licence to cover this. My fitters do not have hgv licences and till now, they have been unable to drive the vehicle. Under the new regulations to come into force next year, hgv driving licences begin at a gross weight of 7.5 tonnes. Recovery vehicles are exempt from plating and testing and do not therefore have a gross plated weight. Will my fitters be able to drive my recovery vehicle when the new regulations come into force ?
A The Road Traffic (Drivers
Ages and Hours of Work) Bill at present going through the Parliamentary procedure makes provision for determining the " relevant maximum weight" in these circumstances. Schedule 1, paragraph 15 of the Bill ,d irects that a notional maximum weight will he determined by multiplying the unladen weight by the number prescribed by the Secretary of State for the class of vehicle into which that vehicle falls.