1 urn leaving school next year and would like to
26th December 1975
Page 28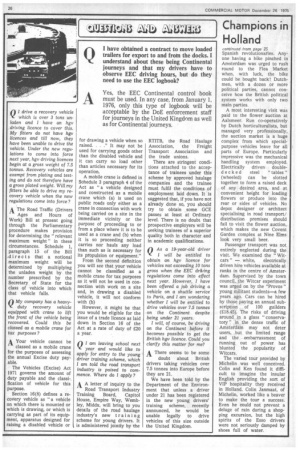 Page 28, 26th December 1975 —
1 urn leaving school next year and would like to
Close
apply for entry to the young driver training scheme, which I am told the road transport industry is poised to commence. Where do I apply ?
A A letter of inquiry to the
Road Transport Industry Training Board, Capitol House, Empire Way, Wembley, Middx, will bring to you details of the road haulage industry's new t raining scheme for young drivers. It is administered jointly by the RTITB, the Road Haulage Association, the Freight Transport Association and the trade unions.
There are stringent conditions attached to the acceptance of trainees under this scheme by approved haulage companies and the trainee must fulfil the conditions of employment laid down. It is suggested that, if you have not already done so, you should try to obtain some GCE passes at least at Ordinary level, There is no doubt that prospective employers will be seeking trainees of a superior quality both in character and in academic qualifications.