All the gear
26th December 1975
Page 18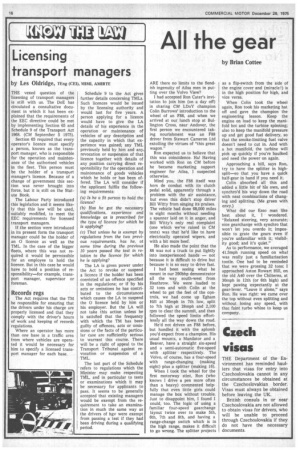 Page 18, 26th December 1975 —
All the gear
Close
by Brian Cottee
ARE there no limits to the fiendish ingenuity of Ailsa men in putting over the Volvo View?
1 had accepted Ron Cater's invitation to join him (on a day off) in sharing CM LDoY champion Colin Burrows' introduction to the wheel of an F88, and when we arrived at our lunch stop at Bullington Cross, near Andover, the first person we encountered taking nourishment was an F88 driver from Stewart Cameron Ltd extolling the virtues of "this great wagon."
Ron expected us to believe that this was coincidence. Hal Having worked with Ron on CM before .became marketing support engineer for Ailsa, I suspected otherwise.
Mind you, the F88 itself was hors de combat with its clutch pedal solid, apparently through a problem with the air assistance, but even this didn't stop driver Bill Witty from singing its praises. The vehicle had done 68,000 miles in eight months without needing a spanner laid on it in anger, and Bill Witty's only real complaint (one which we've raised in CM tests) was that he'd like to have electrically operated wipers, and with a bit more beef.
He also made the point that the 88 was not a truck to put lightly into inexperienced hands — not because it is difficult to drive but because it is so easy to drive fast.
I had been seeing what he meant in our 290bhp demonstrator all the way south-west from Heathrow. We were loaded to 32 tons and with Colin at the wheel to get the feel of the controls, we had come up Egham Hill at 30mph in 7th low, split to 7th high at 28mph and 2,100 rpm to clear the summit, and then followed the speed limits effortlessly all the way down the road.
He'd not driven an F88 before, but handled it with the aplomb you'd expect from a champion. His usual mounts, a Mandator and a Beaver, have a straight six-speed and a semi-automatic five-speed with splitter respectively. The Volvo, of course, has a four-speed with range-changing (making eight) plus a splitter (making 16).
When I took the wheel for the first motorway stint, Ron (who knows I drive a pen more often than a heavy) commented helpfully that even little girls could manage the box without trouble. Just to disappoint him, I found I could, too. The logic of using a familiar four-speed gearchange layout twice over to make 5th, 6th, 7th and 8th, and having a range-change switch which' is in the high range, makes it difficult to go wrong. The splitter projects as a flip-switch from the side of the engine cover and (miracle!) is in the high position for high, and vice versa.
When Colin took the wheel again, Ron took his marketing hat off and gave the Champion the engineering lesson. Keep the engine on load to keep the manifold hot and the turbine spinning; also to keep the manifold pressure up and get good fuel delivery, so that the smoke-limiting fuel valve doesn't need to cut in. And with a hot manifold, the turbine will pick up quickly if you're .baulked and need the power on again.
Approaching a hill, says Ron, try to have the splitter in highsplit—so that you have a quick half-gear in hand if you need it.
Colin absorbed all this and added a little bit of his own, and synchro'd his way down the road with neat combinations of changing and splitting, (Me green with envy.) What did our Esso man like best about it, I wondered. "Relaxed steering, very accurate; nice gearchange with synchro that won't let you overdo it; impossible to grate the gears even if you're unfamiliar with it; visibility good; and it's quiet."
As to performance, we averaged 41.5mph running speed on what was really just a familiarisation tootle. One had to be reminded that we were grossing 32 tons: I approached Aston Rowart Hill, on the old A40 over the Chilterns, at 30mph in 12th (or 6th high) and kept pawing expectantly at the gear-lever. "Leave it alone," says Ron. He was right: we came over the top without even splitting and without losing any speed, with that faint turbo whine to keep us company.