More for your money
26th December 1975
Page 17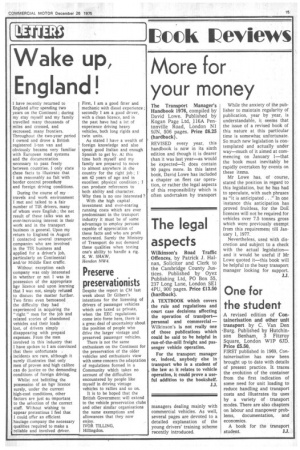 Page 17, 26th December 1975 —
More for your money
Close
The Transport Manager's Handbook 1976, compiled by David Lowe. Published by Kogan Page Ltd, 116A Pentonville Road, London Ni 9..TN, 506 pages. Price 0.25 (hardback).
REVISED every year, this handbook is now in its sixth edition and though it is dearer than it was last year—as would be expected—It does contain 90 pages more. In this latest book, David Lowe has included a chapter on fleet car operation, or rather the legal aspects of this responsibility which is often undertaken by transport managers dealing mainly with commercial vehicles. As well, several pages are devoted to a detailed explanation of the young drivers' training scheme recently introduced. While the anxiety of the publisher to maintain regularity of publication, year by year, is understandable, it seems that the issue of a revised book of this nature at this particular time is somewhat unfortunate. So much new legislation is contemplated and actually under way—much of it aimed at commencing on January 1—that the book must inevitably be rapidly overtaken by events on these items.
Mr Lowe has, of course, stated the position in regard to this legislation, but he has had to speculate, with such phrases as "it is anticipated ..." In one instance this anticipation has proved fruitless, for the DoE licences will not be required for vehicles over 7.5 tonnes gross which were previously exempt from this requirement till January 1, 1977.
Nevertheless, used with discretion and subject to a check with the actual legislation— and it would be useful if Mr Lowe quoted it—this book will be helpful to the busy transport manager looking for support.