SOUTH AFRICAN TRANSPORT COSTS.
26th December 1922
Page 14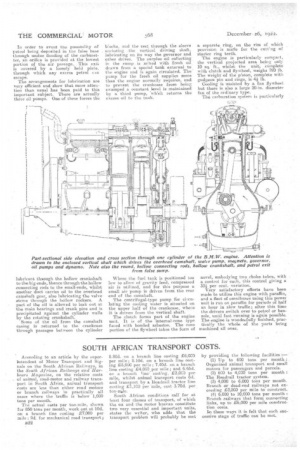 Page 14, 26th December 1922 —
SOUTH AFRICAN TRANSPORT COSTS.
Close
According to an article by the superintendent of Motor Transport and Signals on the South African Railways, in the South African Bo:Riot-0s and Harbours Magazine, on the relative costs of animal, road-motor and railway transport in South Africa, animal transport costs are less than either road motors or branch railways in practically all cases where the traffic is below 1,000 tons per mouth.
The actual casts per ton-mile, shown for 850 tons per month, work out at 10d. on a branch line costing 27,090 per mile; 9d. for mechanical road transport;
B22
8.80d. on a branch line costing 26;030 per mile 8.10d. on a branch line costing 25,060 per mile; 7.40d. on a branch_ lino costing £4,003 per mile; and 6.65d. or a branch line' costlug. 23,000 per mile, whilst animal transport costs 6d. and transport by a Itoadrail tractor line costing 21,100 per mile, cost 3.70d, per
South African conditions calf for at least four classes of transport, of which the ox and the motor busvan constitute two very essential and important units, states the writer, who adds that the transport problem will probably be met by providing the following facilities (1) Tip to 600 tons per month: Organized animal transport and small motors for passengers and parcels.
(2) 600 to 4,000 tons per month : The Readrail tractor system.
(3) 4,000 to 6,000 tons per month. Branch or dead-end railways not exceeding 23,500 per mile to construct.
(4) 6,000 to 10,000 tons per month : Branch railways that form connecting links, up to 46,000 per mile construction costa.
Ita these ways it is felt that each successive stage of traffic can be met.