1V1-13 makes Ii ht of heavy oin
26th August 1993
Page 8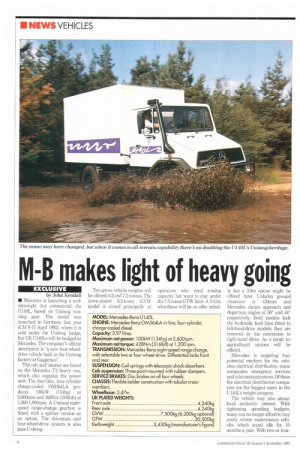 Page 9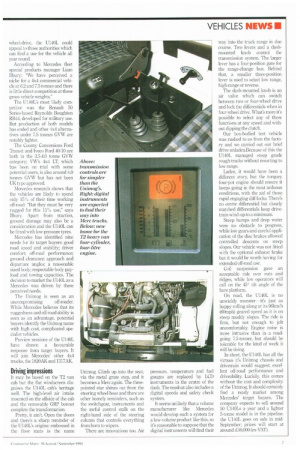 Page 8, 26th August 1993 —
1V1-13 makes Ii ht of heavy oin
Close
EXCLUSIVE
by John Kendall
• Mercedes is launching a middleweight 4x4 commercial, the U140L, based on Unimog running gear. The model was launched in Germany last year (CM 9-15 April 1992), where it is sold under the Unimog badge, but UK U1401.s will be badged as Mercedes. The company's official description is "a new four-wheeldrive vehicle built in the Unimog factory at Gaggenau".
The cab and interior are based on the Mercedes r2 heavy van. which also supplies the power unit. The four-litre, four-cylinder charge-cooled 0M364LA produces 100kW (134hp) at 2,600rpm and 428Nm (3161bft) at 1,300-1,800rpm. A Unimog eightspeed range-change gearbox is fitted, with a splitter version as an option. The drivetrain and four-wheel-drive system is also pure Unimog.
Two gross vehicle weights will be offered; 6.2 and 75 tonnes. The down-plated 6.2-tonne GVIN model is aimed principally at operators who need towing capacity but want to stay under the 75-tonne GTW limit. A 3.47m wheelbase will be on offer initial ly but a 3.9m option might be offered later. Unladen ground clearance is 434mm and Mercedes claims approach and departure angles of 50° and 44° respectively. Both models lack the hydraulic feed lines fitted to left-hand-drive models: they are removed in the conversion to right-hand drive. As a result no agricultural options will be offered.
Mercedes is targeting four potential markets for the vehicles; electrical distribution, water companies, emergency services and telecommunications. Of these the electrical distribution companies are the biggest users in the U140L's weight category The vehicle may also attract local authority interest. With tightening spending budgets, many can no longer afford to buy costly winter maintenance vehicles which stand idle for 10 months a year. With two or four wheel-drive, the U140L could appeal to those authorities which can find a use for the vehicle all year round.
According to Mercedes fleet special products manager Liam Ilbury: "We have perceived a niche for a 4x4 commercial vehicle at 6.2 and 7.5 tonnes and there is little direct competition at these gross vehicle weights."
The U140L's most likely competitor was the Renault 50 Series-based Reynolds Boughton RI344, developed for military use. But production of both models has ended and other 4x4 alternatives under 7.5 tonnes GVW are notably lighter.
The County Conversions Ford Transit and Nem Ford 40-10 are both in the 3.5-4.0 tonne GVW category; VW's 4x4 LT, which has been on trial with some potential users, is also around 4.0 tonnes GVW but has not been UK type approved.
Mercedes research shows that the vehicles are likely to spend only 15% of their time working off-road: But they must be very rugged for this 15% use," says Ilbury. Apart from traction, ground damage may also be a consideration and the U140L can be fitted with low-pressure tyres.
Mercedes has identified nine needs for its target buyers: good road speed and stability; driver comfort; off-road performance; ground clearance; approach and departure angles; a reasonable sized body; respectable body payload and towing capacities. The decision to market the U140L as a Mercedes was driven by these perceived needs.
The Unimog is seen as an uncompromising off-roader. While Mercedes believes that its ruggedness and off-road ability is seen as an advantage, potential buyers identify the Unimog name with high cost, complicated specialist vehicles.
Preview sessions of the U140L have drawn a favourable response from target buyers. It will join Mercedes' other 4x4 trucks, the 1820AK and 1317AK.
It may be based on the T2 van cab but the flat windscreen disguises the L71401., cab's heritage well. The high-level air intake mounted on the offside of the cab arid the removable GRP bonnet complete the transformation.
Pretty it ain't. Open the doors and there's a sharp reminder of the U140L's origins: embossed in the floor mats is the name Unimog. Climb up into the seat, via the metal grate step, and it becomes a Merc again. The threepointed star shines out from the steering wheel boss and there are other homely reminders, such as the switchgear, instruments and the awful control stalk on the right-hand side of the steering column that controls everything from horn to wipers.
There are innovations too. Air
pressure, temperature and fuel gauges are replaced by LCD instruments in the centre of the dash. The readout also includes a digital speedo and safety check system.
It seems unlikely that a volume manufacturer like Mercedes would develop such a system for a low-volume product like this, so it's reasonable to suppose that the digital instruments will find their
way into the truck range in due course. Two levers and a dashmounted knob control the transmission system. The larger lever has a four-position gate for the range-change box. Behind that, a smaller three-position lever is used to select low range. high range or reverse.
The dash-mounted knob is an air valve which can switch between two or four-wheel drive and lock the differentials when in four-wheel drive. What's more it's possible to select any of these functions at any speed and without dipping the clutch.
Our box-bodied test vehicle was rushed to us from the factory and we carried out our brief drive unladen.Bemuse of this the U140L managed steep grade rough tracks without resorting to low range.
Laden, it would have been a different story, but the torquey four-pot engine should ensure it keeps going in the most arduous conditions, with the aid of those rapid engaging duff-locks. There's no centre differential but closely matched differentials keep drivetrain wind-up to a minimum.
Steep humps and deep water were no obstacle to progress, while low gears and careful application of the disc brakes allowed controlled descents on steep slopes. Our vehicle was not fitted with the optional exhaust brake but it would be worth having for extended off-road use.
Coil suspension gave an acceptable ride over ruts and ridges, while few operators will call on the 45' tilt angle of the bare platform.
On road, the U140L is no unwieldy monster it's just as happy rolling along at its 96km/h (60mph) geared speed as it is on steep muddy slopes. The ride is firm, but not enough to jolt uncomfortably. Engine noise is more intrusive than in a roadgoing 7.5-tonner, but should be tolerable for the kind of work it will be doing.
In short, the U1401. has all the virtues it's Unimog chassis and drivetrain would suggest; excellent off-road performance and driveability. Luckily, this comes without the cost and complexity of the Unimog. It should certainly find a ready market among Mercedes' target buyers. The company expects to sell around 50 12110Ls a year and a lighter 5-tonne model is in the pipeline. the U140L goes on sale in midSeptember; prices will start at around £40,000 (ex-VAT).