More Stobart men fined in chart case
26th August 1993
Page 5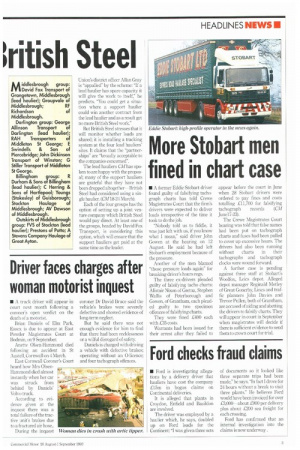 Page 5, 26th August 1993 —
More Stobart men fined in chart case
Close
• A former Eddie Stobart driver found guilty of falsifying tachograph charts has told Crewe Magistrates Court that the firm's drivers were expected to deliver loads irrespective of the time it took to do the job.
"Nobody told us to fiddle, it was just left with us, if you know what I mean," said driver John Gowen at the hearing on 12 August. He said he had left Stobart's employment because of the pressure.
Another of the men blamed "those pressure loads again" for breaking driver's hours regs.
The three ex-drivers pleaded guilty of falsifying tacho charts: Alistair Nixon of Gretna, Stephen Wallis of Peterborough and Gowen, of Grantham, each pleaded guilty to two specimen offences of falsifying charts.
They were fined 4:400 each with £35 costs.
Warrants had been issued for their arrest after they failed to appear before the court in June when 28 Stobart drivers were ordered to pay fines and costs totalling 111,700 for falsifying tachograph records (CM June17-23).
The Crewe Magistrates Court hearing was told that false names had been put on tachograph charts and fuses had been pulled to cover up excessive hours. The drivers had also been running without charts in their tachographs and tachograph clocks were wound forward.
A further case is pending against three staff at Stobart's Woolfox, Leics depot. Alleged depot manager Reginald Motley of Great Gonerby, Lines and traffic planners John Davies and Trevor Pullen, both of Grantham, are accused of aiding and abetting the drivers to falsify charts. They will appear in court in September when magistrates will decide if there is sufficient evidence to send them to crown court for trial.