A two-month-old Leyland Daf FT95 360 vehicle coupled to a Crane
26th August 1993
Page 24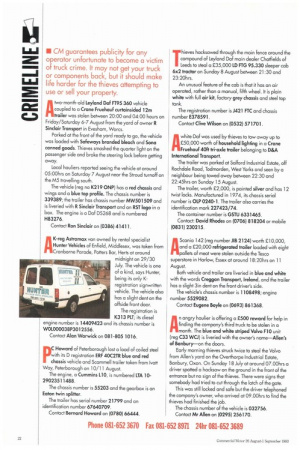 Page 24, 26th August 1993 —
A two-month-old Leyland Daf FT95 360 vehicle coupled to a Crane
Close
Fruehauf curtainsided 12m trailer was stolen between 20:00 and 04:00 hours on Friday/Saturday 6-7 August from the yard of owner R Sinclair Transport in Evesham, Worcs.
Parked at the front of the yard ready to go, the vehicle was loaded with Safeways branded bleach and Sona canned goods. Thieves smashed the quarter light on the passenger side and broke the steering lock before getting away.
Local hauliers reported seeing the vehicle at around 05:00hrs on Saturday 7 August near the Stroud turnoff on the M5 travelling south.
The vehicle (reg no K219 ONP) has a red chassis and wings and a blue top profile. The chassis number is 339389; the trailer has chassis number MW501509 and is liveried with R Sinclair Transport and an RST logo in a box. The engine is a Daf D5268 and is numbered H83276.
Contact Ron Sinclair on (0386) 41411.
AK-reg Astramax van owned by rental specialist Hunter Vehicles of Enfield, Middlesex, was taken from Cranborne Parade, Potters Bar, Herts at around midnight on 29/30 July. The vehicle is one of a kind, says Hunter, being its only Kregistration signwritten vehicle. The vehicle also has a slight dent on the offside front door.
The registration is K313 PIT; its diesel engine number is 14409423 and its chassis number is WOL000038P3012556
pC Howard of Peterborough lost a load of coiled steel with its D registration ERF 40C2TR blue and red chassis vehicle and Scammell trailer taken from Ivatt Way, Peterborough on 10/11 August.
The engine, a Cummins L10, is numbered LTA 1029023511488.
The chassis number is 55203 and the gearbox is an Eaton twin splitter.
The trailer has serial number 21799 and an identification number 67640709.
Contact Bernard Howard on (0780) 66444.
1111.. hieves hacksawed through the main fence around the ' compound of Leyland Daf main dealer Chatfields of Leeds to steal a 235,000 ID FTG 95.330 sleeper cab 6x2 tractor on Sunday 8 August between 21:30 and 23:20hrs.
An unusual feature of the cab is that it has an air operated, rather than a manual, fifth wheel. It is plain white with full air kit, factory grey chassis and steel too tank.
The registration number is J421 FTC and chassis number E378591.
Contact Clive Wilson on (0532) 571701.
Awhite Daf was used by thieves to tow away up to 250,000 worth of household lighting in a Crane Fruehauf 40ft tri-axle trailer belonging to D&A International Transport.
The trailer was parked at Salford Industrial Estate, off Rochdale Road, Todmorden, West Yorks and seen by a neighbour being towed away between 22:30 and 22:45hrs on Sunday 15 August.
The trailer, worth 22,000, is painted silver and has 12 twist locks. Manufactured in 1974, its chassis serial number is OLP 0240-1. The trailer also carries the identification mark 227423/74
The container number is GSTU 6331465.
Contact: David Rhodes on (0706) 818204 or mobile (0831) 230215.
AScania 142 (reg number JIB 2124) worth 210,000, and a 220,000 refrigerated trailer loaded with eight pallets of meat were stolen outside the Tesco superstore in Harlow, Essex at around 18:20hrs on 11 August.
Both vehicle and trailer are liveried in blue and white with the words Creggan Transport, Ireland, and the trailer has a slight 3in dent on the front driver's side.
The vehicle's chassis number is 1108498; engine number 5529082.
Contact Eugene Boyle on (0693) 861368.
An angry haulier is offering a£500 reward for help in finding the company's third truck to be stolen in a month. The blue and white striped Volvo F10 unit (reg C33 WCJ) is liveried with the owner's name—Allen's of Banbury—on the doors.
Early morning thieves struck twice to steal the Volvo from Allen's yard on the Overthorpe Industrial Estate, Banbury, Oxon. On Sunday 18 July at around 07.00hrs a driver spotted a hacksaw on the ground in the front of the entrance but no sign of the thieves. There were signs that somebody had tried to cut through the latch of the gate.
This was still locked and safe but the driver telephoned the company's owner, who arrived at 09.00hrs to find the thieves had finished the job.
The chassis number of the vehicle is 032756. Contact Mr Allen on (0295) 256170.