rivers who get this far into this cul de sac
26th August 1993
Page 22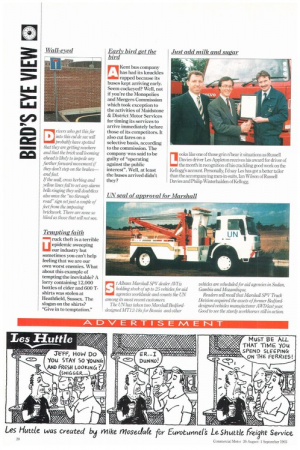 Page 22, 26th August 1993 —
rivers who get this far into this cul de sac
Close
will probably have spotted that they are getting nowhere and that the brick wall looming ahead is likely to impede any further forward movement if they don't step an the brakes— and fast.
If the wall, cross kerbing and yellow lines fail to set any alarm bells ringing they will doubtless also miss the "no through road" sign set just a couple of feet from the imposing brickwork. There are none so blind as those that will not see.
Tempting faith
5 nick theft is a terrible epidemic sweeping our industry but sometimes you can't help feeling that we are our own worst enemies. What about this example of tempting the inevitable? A lorry containing 12,000 bottles of cider and 600 Tshirts was stolen at Heathfield, Sussex. The slogan on the shirts? "Give in to temptation." iDKent bus company has had its knuckles rapped because its buses kept arriving early. Seem cockeyed? Well, not if you're the Monopolies and Mergers Commission which took exception to the activities of Maidstone & District Motor Services for timing its services to arrive immediately before those of its competitors. It also cut fares on a selective basis, according to the commission. The company was said to be guilty of "operating against the public interest". Well, at least the buses arrived didn't they?
Ot Albans Marshall SPV dealer AVI is holding stock of up to 25 vehicles for aid agencies worklwide and counts the UN among its most recent customers
The UN has taken two Marshall Bedforddesigned MT12-18s for Bosnia and other
2 ooks like one of those grin n'bear it situations as Russell Davies driver Les Appleton receives his award for driver of the month in recognition of his crackling good work on the Kellogg's account Personally, I'd say Les has got a better tailor than the accompanying men-in-suits, Ian Wilson of Russell Davies and Philip Winterhalden of Kellogg.
vehicles are scheduled for aid agencies in Sudan, Gambia and Mozambique Readers will recall that Marshall SPV Truck Division acquired the assets of firmer Bedforddesigned vehicles manufacturer AWL) last year Good to see the sturdy workhorses still in action.