Keadle risks losing good repute
26th August 1993
Page 12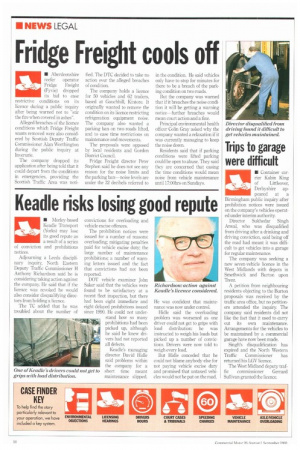 Page 12, 26th August 1993 —
Keadle risks losing good repute
Close
• Morley-based Keadle Transport (Yorks) may lose its good repute as a result of a series of conviction and prohibitions notices.
Adjourning a Leeds disciplinary inquiry. North Eastern Deputy Traffic Commissioner H Anthony Richardson said he is considering taking action against the company. He said that if the licence was revoked he would also consider disqualifying directors from holding a licence.
The TC added that he was troubled about the number of convictions for overloading and vehicle excise offences.
The prohibition notices were issued for a number of reasons: overloading; mitigating penalties paid for vehicle excise duty; the large number of maintenance prohibitions; a number of warning letters issued and the fact that convictions had not been reported.
DOT vehicle examiner John Saker said that the vehicles were found to be satisfactory at a recent fleet inspection, but there had been eight immediate and eight delayed prohibitions issued since 1990. He could not understand how so many prohibitions had been picked up, although he said he knew drivers had not reported all defects.
Keadle's managing director David Hidle said problems within the company for a short time meant maintenance slipped. He was confident that maintenance was now under control.
Hidle said the overloading problem was worsened as one driver could not get to grips with load distribution: he was instructed to weigh his loads but picked up a number of convictions. Drivers were now told to weigh every load.
But Hidle conceded that he could not blame anybody else for not paying vehicle excise duty and promised that untaxed vehicles would not be put on the road.