Fridge Freight cools off
26th August 1993
Page 12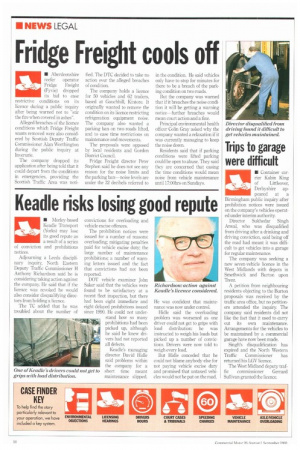 Page 12, 26th August 1993 —
Fridge Freight cools off
Close
• Aberdeenshire reefer operator Fridge Freight (Fyvie) dropped its bid to ease restrictive conditions on its licence during a public inquiry after being warned not to "stir the fire when covered in ashes".
Alleged breaches of the licence conditions which Fridge Freight wants removed were also considered by Scottish Deputy Traffic Commissioner Alan Worthington during the public inquiry at Inverurie.
The company dropped its application after being told that it could depart from the conditions in emergencies, providing the Scottish Traffic Area was noti fied. The DTC decided to take no action over the alleged breaches of condition.
The company holds a licence for 50 vehicles and 62 trailers, based at Gauchhill, Kintore. It originally wanted to remove the condition on its licence restricting refrigeration equipment noise. The company also wanted a parking ban on two roads lifted, and to ease time restrictions on maintenance and movements.
The proposals were opposed by local residents and Gordon District Council, Fridge Freight director Peter Stephen said he does not see any reason for the noise limits and the parking ban—noise levels are under the 32 decibels referred to in the condition. He said vehicles only have to stop for minutes for there to be a breach of the parking condition on two roads.
But the company was warned that if it breaches the noise condition it will be getting a warning notice—further breaches would mean court action and a fine.
Principal environmental health officer Cohn Gray asked why the company wanted a relaxation if it was currently managing to keep the noise down.
Residents said that if parking conditions were lifted parking could be open to abuse. They said they are concerned that easing the time conditions would mean noise from vehicle maintenance until 17:00hrs on Sundays.