By George VVilonlet
26th August 1966
Page 74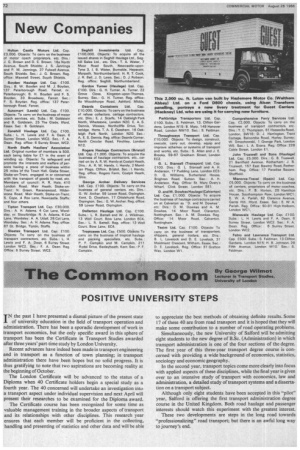 Page 74, 26th August 1966 —
By George VVilonlet
Close
Lecturer in Transport Studies, University of London
POSITIVE UNIVERSITY STEPS
TN the past I have presented a dismal picture of the present state .1 of university education in the field of transport operation and administration. There has been a sporadic development of work in transport economics, but the only specific award in this sphere of transport has been the Certificate in Transport Studies awarded after three years' part-time study by London University.
Recent advances have indeed been made in transport engineering and in transport as a function of town planning; in transport administration there have been hopes but no solid progress. It is thus gratifying to note that two aspirations are becoming reality at the beginning of October.
The London Certificate will be advanced to the status of a Diploma when 40 Certificate holders begin a special study as a fourth year. The 40 concerned will undertake an investigation into a transport aspect under individual supervision and next April will present their researches to be examined for the Diploma award.
The Certificate course has been recognized for some time as valuable management training in the broader aspects of transport and its relationships with other disciplines. This research year ensures that each member will be proficient in the collecting, handling and presenting of statistics and other data and will be able
to appreciate the best methods of obtaining definite results. Some 17 of these 40 are from road transport and it is hoped that they will make some contribution to a number of road operating problems.
Simultaneously, the new University of Salford will be admitting eight students to the new degree of B.Sc. (Administration) in which transport administration is one of the four sections of the degree. The first year of this three-year transport degree course is concerned with providing a wide background of economics, statistics, sociology and economic geography.
In the second year, transport topics come more clearly into focus with applied aspects of these disciplines, while the final year is given over to an intensive study of transport with economics, law and administration, a detailed study of transport systems and a dissertation on a transport subject.
Although only eight students have been accepted in this "pilot" year, Salford is offering the first transport administration degree course in the United Kingdom. Both road haulage and passenger interests should watch this experiment with the greatest interest.
These two developments are steps in the long road towards "professionalizing" road transport; but there is an awful long way to journey's end.