ron. MONEY MATTE Rs me ...... •••
26th August 1966
Page 63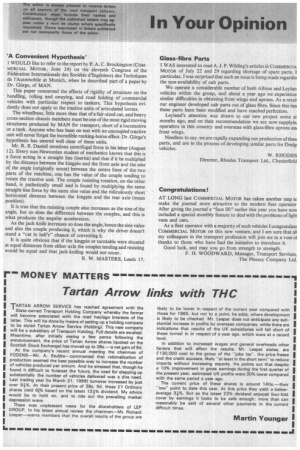 Page 63, 26th August 1966 —
ron. MONEY MATTE Rs me ...... •••
Close
Tartan Arrow links with THC
TARTAN ARROW SERVICE has reached agreement with the State-owned Transport Holding Company whereby the former will become associated with the road haulage interests of the latter. This will be done by means of setting up a holding company to be styled Tartan Arrow Service (Holding). This new company will be a subsidiary of Transport Holding. Full details are awaited. Meantime, after initially easing a few pence following the announcement, the price of Tartan Arrow shares (quoted on the Scottish Stock Exchange) has moved up to 38s.—a net gain of 9d.
At the company's recent annual meeting the chairman of FODENS—Mr. A. Stubbs—commented that rationalization of production seemed the best possible way to increase the number of vehicles produced per annum. And he stressed that, though he found it difficult to forecast the future, the need for stepping up substantially the number of vehicles delivered was a dire need. Last trading year (to March 31, 1966) turnover increased by just over 9-1%. At their present price of 38s. 9d. these £1 Ordinary shares yield 6,4% based on the latest 12-1% dividend. My advice would be to hold on, and to ride out the prevailing market depression wave.
There was unpleasant news for the shareholders of LEP GROUP. In his latest annual review the chairman—Mr. Richard Leeper—warns members that the overall results of the group are
likely to be lower in respect of the current year compared with those for 1965, but not to a point, he adds, where development is likely to be checked. Mr. Leeper does not anticipate any substantial increase in profits by overseas companies, while there are indications that results of the UK subsidiaries will fall short of those turned in in respect of a year ago, which were at a record level.
In addition to increased wages and general overheads other factors that will affect the results, Mr. Leeper states, are £130,000 cost to the group of the "jobs tax", the price freeze and the credit squeeze, likely "at least in the short term" to reduce imports without increasing exports. He points out that despite a 10% improvement in gross earnings during the first quarter of the present year, estimated UK profits were 30% lower compared with the same period a year ago.
The current price of these shares is around 140s.—their "low" point to date this year. At this price they yield a belowaverage 34%. But as the latest 23% dividend enjoyed four-fold cover by earnings it looks to be safe enough: more than can reasonably be said of several other payments in the current difficult times.
Martin Younger