NEW EQUIPMENT
26th August 1966
Page 44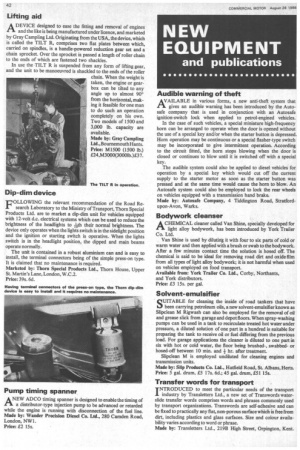 Page 44, 26th August 1966 —
NEW EQUIPMENT
Close
and publications
Audible warning of theft
NAMABLE in various forms, a new anti-theft system that gives an audible warning has been introduced by the Autosafe company that is used in conjunction with an Autosafe ignition-switch lock when applied to petrol-engined vehicles.
In the case of such vehicles, a special miniature high-frequency horn can be arranged to operate when the door is opened without the use of a special key and/or when the starter button is depressed. Horn operation may be continuous or a special flasher-type switch may be incorporated to give intermittent operation. According to the circuit fitted, the horn stops blowing when the door is closed or continues to blow until it is switched off with a special key.
The audible system could also be applied to diesel vehicles for operation by a special key which would cut off the current supply to the starter motor as soon as the starter button was pressed and at the same time would cause the horn to blow. An Autosafe system could also be employed to lock the rear wheels on vehicles equipped with a transmission hand brake.
Made by: Autosafe Company, 4 Tiddington Road, Stratfordupon-Avon, Warks.
Bodywork cleanser
ACHEMICAL cleaner called Van Shine, specially developed for light alloy bodywork, has been introduced by York Trailer Co. Ltd.
Van Shine is used by diluting it with four to six parts of cold or warm water and then applied with a brush or swab to the bodywork. After a few minutes contact time the solution is hosed off. The chemical is said to be ideal for removing road dirt and oxide film from all types of light alloy bodywork; it is not harmful when used on vehicles employed on food transport.
Available from: York Trailer Co. Ltd., Corby, Northants, and York distributors.
Price: £3 15s. per gal.
Solvent-emulsifier
SUITABLE for cleaning the inside of road tankers that have been carrying petroleum oils, a new solvent-emulsifier known as Slipclean M Rigwash can also be employed for the removal of oil and grease slick from garage and depot floors. When spray-washing pumps can be used in a tank to recirculate treated hot water under pressure, a diluted solution of one part in a hundred is suitable for preparing the tank to receive oil or fuel differing from the previous load. For garage applications the cleaner is diluted to one part in six with hot or cold water, the floor being brushed-, swabbedor hosed offbetween 10 min. and + hr. after treatment.
Slipclean M is employed undiluted for cleaning engines and transmission units.
Made by: Slip Products Co. Ltd., Hatfield Road, St. Albans, Herts. Price: 5 gal. drum, £5 17s. 6d.; 45 gal. drum, £51 15s.
Transfer words for transport
INTRODUCED to meet the particular needs of the transport industry by Transletters Ltd., a new set of Transwords waterslide transfer words comprises words and phrases commonly used by transport organizations. Transwords are self-adhesive and can be fixed to practically any flat, non-porous surface which is free from dirt, including plastics and glass surfaces. Size and colour availability varies according to word or phrase.
Made by: Transletters Ltd., 219B High Street, Orpington, Kent.