Tay Bridge Recovery Vehicle
26th August 1966
Page 42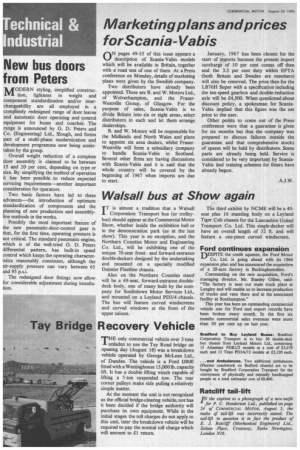 Page 42, 26th August 1966 —
Tay Bridge Recovery Vehicle
Close
THE only commercial vehicle over 3 tons unladen to use the Tay Road bridge on opening day (August 18) was a breakdown vehicle operated by George McLean Ltd., of Dundee. The vehicle is a Ford D800 fitted with a Westinghouse 15,000 lb. capacity lift. It has a double lifting winch capable of lifting a 5-ton suspended tow. The rear corner pulleys make side pulling a relatively simple matter.
At the moment the unit is not recognized as the official bridge-clearing vehicle, nor has it been decided if the bridge authority will purchase its own equipment. While in the initial stages the toll charges do not apply to this unit, later the breakdown vehicle will be required to pay the normal toll charge which will amount to £1 return. Bradford to Buy Leyland Buses: Bradford Corporation Transport is to buy 30 double-deck bus chassis from Leyland Motors Ltd., comprising 15 Adanteen PDR1/2 models at a cost of £3,479 each and 15 Titan PD3A/12 models at £3,120 each.
and Ambulances. Two additional ambulances (Plaxton coachwork on Bedford chassis) are to be bought by Bradford Corporation Transport for the conveyance of physically and mentally handicapped people at a total estimated cost of £8,400.
Ratcliff tail-lift
pr the caption to a photograph of a new outfit for P. C. Henderson Ltd., published on page 24 of COMMERCIAL MOTOR, August 5, the make of tail-ltft was incorrectly stated. The tail-lift in question is in fact the product of E. J. Ratcliff (Mechanical Engineers) Ltd., Selsea Place, Crossway, Stoke Newington, London NI6.