New bus doors from Peters
26th August 1966
Page 42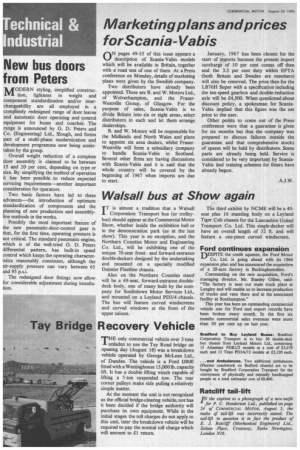 Page 42, 26th August 1966 —
New bus doors from Peters
Close
MODERN styling, simplified construction, lightness in weight and component standardization and/or interchangeability are all employed in a completely redesigned range of door leaves and automatic door operating and control equipment for buses and coaches. The range is announced by G. D. Peters and Co. (Engineering) Ltd., Slough, and forms part of a multi-phase modernization and development programme now being undertaken by the group.
Overall weight reduction of a complete door assembly is claimed to be between 15 and 20 per cent, depending on type or size. By simplifying the method of operation it has been possible to reduce expected servicing requirements—another important consideration for operators.
Two basic factors have led to these advances—the introduction of optimum standardization of components and the planning of new production and assemblyline methods in the works.
Possibly the most important feature of the new pneumatic-door-control gear is that, for the first time, operating pressure is not critical. The standard pneumatic engine, which is of the well-tried G. D. Peters differential pattern, has built-in speed control which keeps the operating characteristics reasonably consistent, although the air-supply pressure can vary between 65 and 95 p.s.i.
The redesigned door fittings now allow for considerable adjustment during installation.