Marketing plans and prices for Scania-Vabis
26th August 1966
Page 42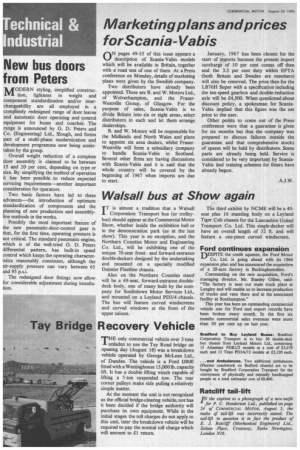 Page 42, 26th August 1966 —
Marketing plans and prices for Scania-Vabis
Close
ON pages 49-55 of this issue appears a description of Scania-Vabis models which will be available in Britain, together with a road test of one of them. At a Press conference on Monday, details of marketing plans were given by the Swedish company.
Two distributors have already been appointed. These are B. and W. Motors Ltd., of Wolverhampton, and the FraserWestville Group, of Glasgow. For the purpose of sales, Scania-Vabis is to divide Britain into six or eight areas, select distributors in each and let them arrange dealerships.
B. and W. Motors will be responsible for the Midlands and North Wales and plans to appoint six area dealers, whilst FraserWestville will form a subsidiary company to handle Scania-Vabis in Scotland. Several other firms are having discussions with Scania-Vabis and it is said that the whole country will be covered by the beginning of 1967 when imports are due to start. January, 1967 has been chosen for the start of imports because the present import surcharge of 10 per cent comes off then and the 3.5 per cent duty within EFTA (both Britain and Sweden are members) will also be removed. The price then for the LB76H Super with a specification including the ten-speed gearbox and double-reduction axle will be £4,500. When questioned about discount policy, a spokesman for ScaniaVabis implied that this figure was the net price to the user.
Other points to come out of the Press conference were that a guarantee is given for six months but that the company was prepared to discuss failures outside the guarantee and that comprehensive stocks of spares will be held by distributors. Some parts are already being held. Service is considered to be very important by ScaniaVabis and training schemes for fitters have already begun.
A.J.W.