Driver wins redundancy claim
26th August 1966
Page 41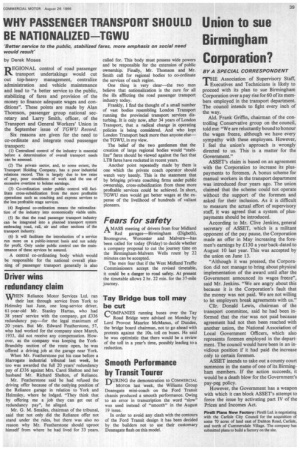 Page 41, 26th August 1966 —
Driver wins redundancy claim
Close
WIEN Reliance Motor Services Ltd. ran
their last through service from York to Helmsley last June, one long-service driver, 61-year-old Mr. Stanley Hartas, who had 38 years' service with the company, got £336 redundancy pay—for the legal maximum of 20 years. But Mr. Edward Featherstone, 57, who had worked for the company since March, 1933, did not receive any compensation. However, as the company was keeping the YorkBrandsby section of the route open, he was offered a driving job at the garage near York.
When Mr. Featherstone put his case before a Harrogate industrial tribunal last week, he too was awarded the full 20 years' redundancy pay of £336 against Mrs. Carol Shelton and her husband Mr. Richard Shelton, of Reliance.
Mr. Featherstone said he had refused the driving offer because of the outlying position of the Reliance garage in relation to York and Helmsley, where he lodged. "They think that by offering me a job they can get out of redundancy pay", he alleged.
Mr. G. M. Smailes, chairman of the tribunal, said that not only did the Reliance offer not stand under the rules, but there was also no reason why Mr. Featherstone should uproot himself from where he had lived for 33 years.