Corporation?
26th August 1966
Page 41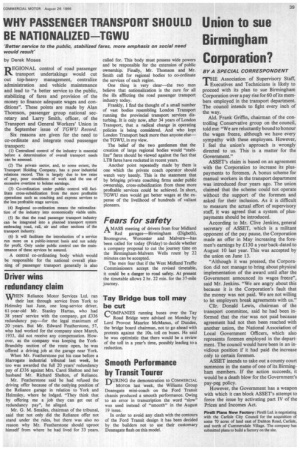 Page 41, 26th August 1966 —
Corporation?
Close
BY A SPECIAL CORRESPONDENT
THE Association of Supervisory Staff, Executives and Technicians is likely to proceed with its plan to sue Birmingham Corporation over a pay rise for 60 of its members employed in the transport department. The council intends to fight every inch of the way.
Ald. Frank Griffin, chairman of the controlling Conservative group on the council, told me: "We are reluctantly bound to honour the wages freeze, although we have every sympathy with these employees. However, I feel the union's approach is wrongly directed to us. This is a matter for the Government."
ASSET's claim is based on an agreement with the Corporation to increase its pluspayments to foremen. A bonus scheme for manual workers in the transport department was introduced four years ago. The union claimed that the scheme could not operate without the support of the foremen and asked for their inclusion. As it is difficult to measure the actual effort of supervisory staff, it was agreed that a system of pluspayments should be introduced.
According to Mr. Clive Jenkins, general secretary of ASSET, which is a militant opponent of the pay pause, the Corporation made an offer in May increasing the foremen's earnings by £130 a year back-dated to August 10 last year. This was accepted by the union on June 13.
"Although it was pressed, the Corporation did not manage to bring about physical implementation of the award until after the Government announced its wages freeze", said Mr. Jenkins. "We are angry about this because it is the Corporation's fault that the money was not paid. We are not willing to let employers break agreements with us."
Cllr. Donald Lewis, chairman of the transport committee, said he had been informed that the rise was not paid because agreement had not then been reached with another union, the National Association of Local Government Officers, which also represents foremen employed in the department. The council would have been in an invidious position if it had paid the increase only to certain foremen.
ASSET intends to take out a county court summons in the name of one of its Birmingham members. If the action succeeds, it would be a death blow for the Government's pay-peg policy.
However, the Government has a weapon with which it can block ASSET's attempt to force the issue by activating part IV -of the Prices and Incomes Act.