Reorganization for Central London buses
26th August 1966
Page 38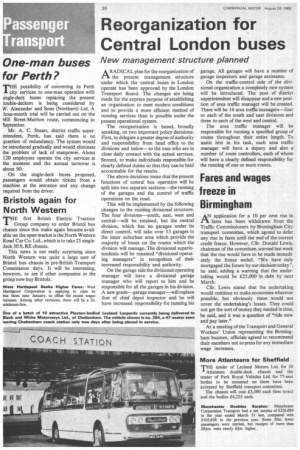 Page 38, 26th August 1966 —
Reorganization for Central London buses
Close
New management structure planned
RADICAL plan for the reorganization of the present management structure under which the central buses in London operate has been approved by the London Transport Board. The changes are being made for the express purpose of establishing an organization to meet modern conditions and to provide a more efficient method of running services than is possible under the present operational system.
The reorganization is based, broadly speaking, on two important policy decisions. First, to delegate a greater degree of authority and responsibility from head office to the divisions and below—to the men who are in close daily contact with the actual services. Second, to make individuals responsible for clearly defined duties so that they can be held accountable for the results.
The above decisions mean that the present functions of central bus operation will be split into two separate sections—the running of the garages and the control of traffic operations on the road.
This will be implemented by the following changes to the existing divisional structure: The four divisions—south, east, west and central—will be retained, but the central division, which has no garages under its direct control, will take over 13 garages in the inner suburban area which provide the majority of buses on the routes which the division will manage. The divisional superintendents will be renamed "divisional operating managers" in recognition of their increased responsibility and authority.
On the garage side the divisional operating manager will have a divisional garage manager who will report to him and be cesponsible for all the garages in his division. A new grade—garage manager—will replace that of chief depot inspector and he will have increased responsibility for running his garage. All garages will have a number of garage inspectors and garage assistants.
On the traffic-control side of the divisional organization a completely new system will be introduced. The post of district superintendent will disappear and a new position of area traffic manager will be created. There will be 14 area traffic managers—four to each of the south and east divisions and three to each of the west and central.
The area traffic manager will be responsible for running a specified group of routes throughout their entire length. To assist him in his task, each area traffic manager will have a deputy and also a number of route controllers, each of whom will have a clearly defined responsibility for the running of one or more routes.