Fares and wages freeze in Birmingham
26th August 1966
Page 38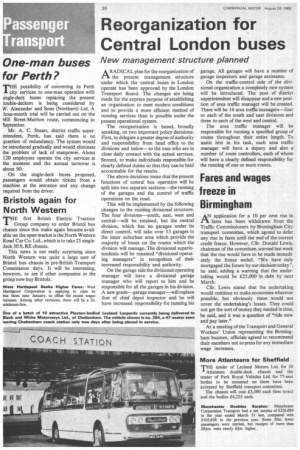 Page 38, 26th August 1966 —
Fares and wages freeze in Birmingham
Close
AT application for a 10 per cent rise in fares has been withdrawn from the Traffic Commissioners by Birmingham City transport committee, which agreed to defer any rise in fares until the end of the current credit freeze. However, Car. Donald Lewis, chairman of the committee, warned last week that the rise would have to be made immediately the freeze ended. "We have only mortgaged the future by our decision today'', he said, adding a warning that the undertaking would be £25,000 in debt by next March.
Cllr. Lewis stated that the undertaking would continue to make economies wherever possible, but obviously these would not cover the undertaking's losses. They could not get the sort of money they needed in time, he said, and it was a question of "ride now and pay later."
At a meeting of the Transport and General Workers' Union representing the Birmingham busmen, officials agreed to recommend their members not to press for any immediate wage increases.
More Atlanteans for Sheffield
1T-1E tender of Leyland Motors Ltd. for 30 Atlantean double-deck chassis and the tender of Park Royal Vehicles Ltd. for 77-seat bodies to be mounted on them have been accepted by Sheffield transport committee.
The chassis will cost £3,380 each (less tyres) and the bodies £4,325 each.