Objectors withdraw Refusal for B-to-A switch after amendment
26th August 1966
Page 35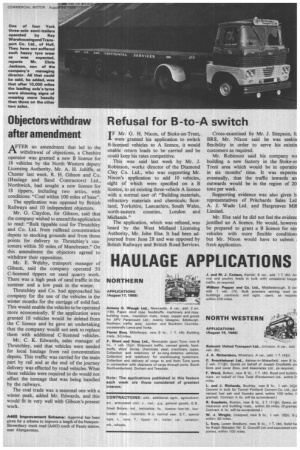 Page 35, 26th August 1966 —
Objectors withdraw Refusal for B-to-A switch after amendment
Close
AFTER an amendment that led to the withdrawal of objections, a Cheshire operator was granted a new B licence for 18 vehicles by the North Western deputy Licensing Authority, Mr. A. H. Jolliffe, at Chester last week. R. H. Gibson and Co. (Haulage and Sand Contractors) Ltd., Northwich, had sought a new licence for 18 tippers, including two artics, with conditions: "Coal within 100 miles of base".
The application was opposed by British Railways and 10 independent objectors.
Mr. G. Claydon, for Gibson, said that the company wished to amend the application to read: "Bulk tippable coal for Thrutchley and Co. Ltd. from railhead concentration depots to stocking grounds and from those points for delivery to Thrutchley's customers within 50 miles of Manchester." On this amendment the objectors agreed to withdraw their opposition.
Mr. E. Welsby, transport manager of Gibson, said the company operated 50 C-licensed tippers on sand quarry work. There was a high peak of sand traffic in the summer and a low peak in the winter.
Thrutchley and Co. had approached his company for the use of the vehicles in the winter months for the carriage of solid fuel. This would enable the vehicles to be operated more economically. If the application were granted 18 vehicles would be deleted from the C licence and he gave an undertaking that the company would not seek to replace them with additional C-licensed vehicles.
Mr. C. K. Edwards, sales manager of Thrutchley, said that vehicles were needed for local haulage from rail concentration depots. This traffic was carried for the main part by rail and at the end of the journey delivery was effected by road vehicles. What these vehicles were required to do would not affect the tonnage that was being handled by the railways.
The coal trade was a seasonal one with a winter peak, added Mr. Edwards, and this would fit in very well with Gibson's present work.