Eatonways aim at new luxury services
26th August 1966
Page 30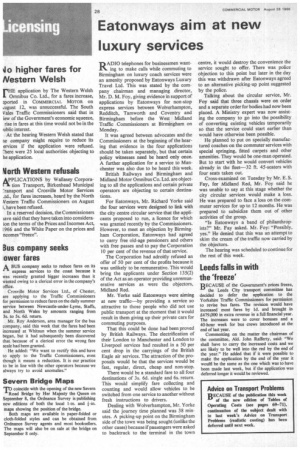 Page 30, 26th August 1966 —
Eatonways aim at new luxury services
Close
RADIO telephones for businessmen wanting to make calls while commuting to Birmingham on luxury coach services were an amenity proposed by Eatonways Luxury Travel Ltd. This was stated by the company chairman and managing director, Mr. D. M. Foy, giving evidence in support of applications by Eatonways for non-stop express services between Wolverhampton, Redditch, Tamworth and Coventry and Birmingham before the West Midland Traffic Commissioners at Birmingham on Monday.
It was agreed between advocates and the Commissioners at the beginning of the hearing that evidence in the four applications should be taken separately, but that certain policy witnesses need be heard only once. A further application for a service to Manchester was also due to be heard this week.
British Railways and Birmingham and Midland Motor Omnibus Co. Ltd. are objecting to all the applications and certain private operators are objecting to certain destinations.
For Eatonways, Mr. Richard Yorke said the four services were designed to link with the city centre circular service that the applicants proposed to run, a licence for which was granted recently by the Commissioners. However, to meet an objection by Birmingham Corporation, Eatonways had agreed to carry free old-age pensioners and others with free passes and to pay the Corporation 10 per cent of the revenue of that service.
The Corporation had adroitly refused an offer of 50 per cent of the profits because it was unlikely to be remunerative. This would bring the applicants under Section 135(2) of the Act as an operator providing unremunerative services as were the objectors, Midland Red.
Mr. Yorke said Eatonways were aiming at new traffic—by providing a service so attractive to those people who did not use public transport at the moment that it would result in them giving up their private cars for commuting purposes.
That this could be done had been proved by British Railways. The electrification of their London to Manchester and London to Liverpool services had resulted in a 50 per cent drop in the carryings of the British Eagle air services. The attraction of the proposals would be that the services would be fast, regular, direct, cheap and non-stop.
There would be a standard fare to all four destinations of 3s. 6d. single and 6s. return. This would simplify fare collecting and counting and would allow vehicles to be switched from one service to another without fresh instructions to drivers.
Dealing with Wolverhampton, Mr. Yorke said the journey time planned was 38 minutes. A picking-up point on the Birmingham side of the town was being sought (unlike the other cases) because if passengers were asked to backtrack to the terminal in the town
centre, it would destroy the convenience the service sought to offer. There was police objection to this point but later in the day this was withdrawn after Eatonways agreed to an alternative picking-up point suggested by the police.
Talking about the circular service, Mr. Foy said that three chassis were on order and a separate order for bodies had now been placed. A Ministry expert was now assisting the company to go into the possibility of converting existing vehicles temporarily so that the service could start earlier than would have otherwise been possible.
He planned to put on specially manufactured coaches on the commuter services with special springing, fitted carpets and other amenities. They would be one-man operated. But to start with he would convert vehicles already in the fleet-32 ft. 45-seaters with four seats taken out.
Cross-examined on Tuesday by Mr. E. S. Fay, for Midland Red, Mr. Foy said he was unable to say at this stage whether the city circular services would make a loss. He was prepared to face a loss on the commuter services for up to 12 months. He was prepared to subsidize them out of other activities of the group.
"Is Eatonways a band of philanthropists?" Mr. Fay asked. Mr. Foy: "Possibly, yes." He denied that this was an attempt to skim the cream of the traffic now carried by the objectors.
The hearing was scheduled to continue for the rest of this week.