New dates for EEC decisions
26th August 1966
Page 29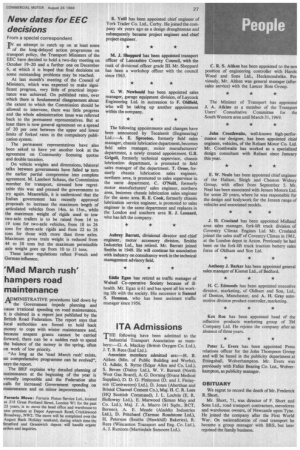 Page 29, 26th August 1966 —
New dates for EEC decisions
Close
From a special correspondent
IN an attempt to catch up on at least some
of the long-delayed action programme on transport policy, the Transport Ministers of the EEC have decided to hold a two-day meeting on October 19-20 and a further one on December 6, at which it is hoped that final decisions on some outstanding problems may be reached.
At last month's meeting of the Council of Ministers, which was expected to make significant progress, very little of practical importance was achieved. On published rates, over which there is fundamental disagreement about the extent to which the Commission should be allowed to intervene, there was little progress and the whole administration issue was referred back to the permanent representatives. But at least there is now general agreement on a spread of 20 per cent between the upper and lower limits of forked rates in the compulsory publication system.
The permanent representatives have also been asked to have yet another look at the agreement on Community licensing quotas and double taxation.
On vehicle weights and dimensions, bilateral talks between governments have failed to turn the earlier partial compromise into complete agreement. M. Lambert Schaus, the Commission member for transport, stressed how regrettable this was and pressed the governments to try again. Meanwhile, it is understood that the Italian government has recently approved proposals to increase the maximum length of articulated vehicles from 14m. to 15m., while the maximum weight of rigids used to tow two-axle trailers is to be raised from 14 to 19 tons fot two-axle vehicles, from 18 to 26 tons for three-axle rigids and from 22 to 26 tons for those with more than three axles. Maximum gross train weight is reduced from 44 to 38 tons but the maximum permissible axle weight goes up from 10 to 13 tons.
These latter regulations reflect French and German influence.