'Mad March rush' hampers road maintenance
26th August 1966
Page 29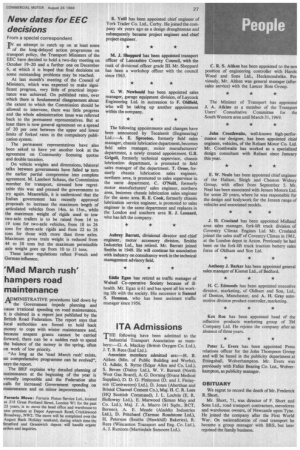 Page 29, 26th August 1966 —
'Mad March rush' hampers road maintenance
Close
ADMINISTRATIVE procedures laid down by the Government impede planning and cause irrational spending on road maintenance, it is claimed in a report just published by the British Road Federation. The report says that local authorities are forced to hold back money to cope with winter maintenance and, because unspent grants cannot be carried forward, there can be a sudden rush to spend the balance of the money in the spring, often on work of low priority.
"As long as the 'mad March rush' exists, no comprehensive programme can be evolved", says the report.
The BRF explains Why detailed planning of maintenance at the beginning of the year is virtually impossible and the Federation also calls for increased Government spending on maintenance and on minor improvements.
Ferraris Move: Ferraris Piston Service Ltd., located at 218 Great Portland Street, London WI for the past 23 years, is to move the head office and warehouse to new premises at Depot Approach Road, Cricklewood Broadway, NW2. The move will be completed over the August Bank Holiday weekend, during which time the Stratford and Greenwich depots will handle urgent orders and inquiries.
R. Yuill has been appointed chief engineer of York Trailer Co. Ltd., Corby. He joined the company six years ago as a design draughtsman and subsequently became project engineer and chief project engineer.
M. J. Sheppard has been appointed transport officer of Lancashire County Council, with the rank of divisional officer grade HI. Mr. Sheppard has been a workshop officer with the council since 1963.
G. W. Newbould has been appointed sales manager, garage equipment division, of Laycock Engineering Ltd. in succession to F. Oldtield, who will be taking up another appointment within the company.
The following appointments and changes have been announced by Tecalemit (Engineering) Ltd.:—A. E. Sproston, formerly field sales manager, chassis lubrication department, becomes field sales manager, motor manufacturers' department, a newly created appointment. G.B. Grigoli, formerly technical supervisor, chassis lubrication department, is promoted to field sales manager of the department. T. Orme, formerly chassis lubrication sales engineer, northern area, is promoted to sales supervisor in the same department. C. O'Neill, formerly motor manufacturers' sales engineer, northern area, becomes chassis lubrication sales engineer for the same area. R. E. Cook, formerly chassis lubrication service engineer, is promoted to sales engineer in the same department and replaces in the London and southern area R. .1. Leonard, who has left the company.
Aubrey Barratt, divisional director and chief engineer, motor accessory division, Smiths Industries Ltd., has retired. Mr. Barratt joined Smiths in 1949. He will continue his association with industry on consultancy work in the technical management advisory field.
Eddie Egan has retired as traffic manager of Walsall Co-operative Society because of illhealth. Mr. Egan is 61 and has spent all his working life with the society. His successor is Samuel S. Henman, who has been assistant traffic manager since 1956.