ITA Admissions
26th August 1966
Page 29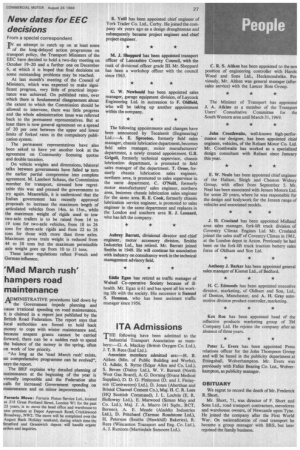 Page 29, 26th August 1966 —
ITA Admissions
Close
THE following have been admitted to the Industrial Transport Association as members:—G. A. Mackay (British Oxygen Co. Ltd.), J. T. B. Rees (Izal Ltd.).
Associate members admitted are:—H. B. Aitken (Min. of Public Building and Works), 0. Adiele. S. Byrne (Edgar Allen and Co. Ltd.), S. Bevan (Dialoy Ltd.), W. V. Burnett (North West Gas Board), A. G. Doming (Evans Medical Supplies), D. D. G. Finlayson (D. and J. Finlayson (Contractors) Ltd.), D. Jones (Aberthan and Bristol Channel Cement Co.), Maj. H. C. R. Lees (HQ Scottish Command), J. L. Lochtie (E. R. Holloway Ltd.). E. Marwood (Simon May and Co. Ltd.), Maj. J. A. Macro (41 Sqdn., RCT, Borneo), A. E. Meade (Aladdin Industries Ltd.), D. Pritchard (Tarmac Roadstone Ltd.), H. Peterson (Smiths (Hawkhill) Bakeries), R. Rees (Wincanton Transport and Eng. Co. Ltd.), A. J. Runcorn (Martindale Samoore Ltd.). C. R. S. Aitken has been appointed to the new position of engineering controller with Harok Wood and Sons Ltd., Heckmondwike, Pre viously, Mr. Aitken was general manager (after sales service) with the Lancer Boss Group.
The Minister of Transport has appointed J. A. Atkins as a member of the Transport Users' Consultative Committee for the South Western area until March 31,1969.
John Crosthwaite, well-known high-performance car designer, has been appointed chief engineer, vehicles, of the Reliant Motor Co. Ltd. Mr. Crosthwaite has worked as a specialized design consultant with Reliant since January this year.
E. W. Neale has been appointed chief engineer of the Hallam, Sleigh and Cheston Widney Group, with effect from September 5. Mr. Neal has been associated with Jensen Motors Ltd. for some 20 years, where he was responsible for the design and bodywork for the Jensen range of vehicles and associated models.
J. H. Crosland has been appointed Midland area sales manager, fork-lift truck division of Coventry Climax Engines Ltd. Mr. Crosland joined the sales staff of Coventry Climax in 1961, at the London depot in Acton. Previously he had been on the fork-lift truck traction battery sales force of Oldham and Son Ltd.
Anthony J. Barker has been appointed general sales manager of Kismet Ltd., of Bedford.
H. C. Edmonds has been appointed executive director, marketing, of Oldham and Son, Ltd., of Denton, Manchester, and A. H. Gray automotive division product controller, marketing.
Ken Roe has been appointed head of the reflective products marketing group of 3M Company Ltd. He rejoins the company after an absence of three years.
Peter L. Evers has been appointed Press relations officer for the John Thompson Group and will be based in the publicity department at Ettingshall, Wolverhampton. Mr, Evers was previously with Fafnir Bearing Co. Ltd., Wolverhampton, as publicity manager.
OBITUARY We regret to record the death of Mr. Frederick R. Short.
Mr. Short, 71, was director of F. Short and Sons Ltd., road transport contractors, stevedores and warehouse owners, of Newcastle upon Tyne. He joined the company after the First World War. On nationalization of road transport he became a group manager with BRS, but later rejoined the family business.
Tags
People
:
S. Aitken
,
Anthony J. Barker
,
Midland
,
E. W. Neale
,
Neal
,
H. C. Edmonds
,
Ken Roe
,
J. A. Atkins
,
H. Crosland
,
Peter L. Evers
,
R. S. Aitken
,
Frederick R. Short
,
John Crosthwaite