Ulster-Dublin service
26th August 1966
Page 28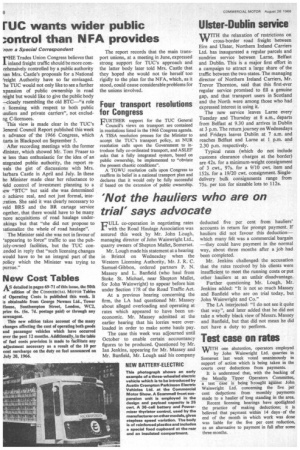 Page 28, 26th August 1966 —
Ulster-Dublin service
Close
WITH the relaxation of restrictions on cross-border road freight between Eire and Ulster, Northern Ireland Carriers Ltd. has inaugurated a regular parcels and sundries service between Lame, Belfast and Dublin. This is a major first effort in a campaign to attract a large share of the traffic between the two states. The managing director of Northern Ireland Carriers, Mr. Trevor Thornton, said that this first-ever regular service promised to fill a genuine gap, and that transport users in Scotland and the North were among those who had expressed interest in using it.
The new service leaves Larne every Tuesday and Thursday at 8 a.m., departs from Belfast at 9.30 and arrives in Dublin at 3 p.m. The return journey on Wednesdays and Fridays leaves Dublin at 7 a.m. and reaches Belfast and Larne at 1 p.m. and 2.30 p.m. respectively.
Typical rates (which do not include customs clearance charges at the border) are 42s. for a minimum-weight consignment of 3 cwt., 97s. for a 9/10 cwt. item and 152s. for a 19/20 cwt. consignment. Singledelivery bulk consignments range from 756. per ton for sizeable lots to 112s.