ruc wants wider public
26th August 1966
Page 28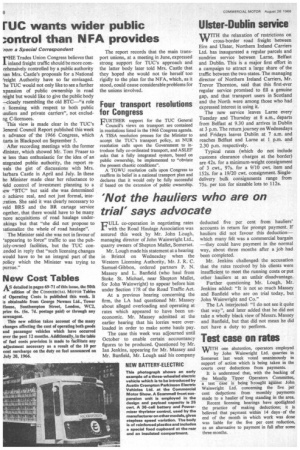 Page 28, 26th August 1966 —
ruc wants wider public
Close
:ontrol than NFA provides
rom a Special Correspondent
FHE Trades Union Congress believes that inland freight traffic should be more cornrehensively controlled by a public authority ;Ian Mrs. Castle's proposals for a National ?reight Authority have so far envisaged.
'he TUC would not only like to see a further xpansion of public ownership in road reight but would like to give the public body —closely resembling the old BTC—"a role a licensing with respect to both public tauliers and private carriers", not excludrig C-licensees.
This view is made clear in the TUC's rieneral Council Report published this week n advance of the 1966 Congress, which tarts in Blackpool on September 5.
After recording meetings with the former dinister, which showed Mr. Torn Fraser to )e less than enthusiastic for the idea of an ntegrated public authority, the report retals the gist of discussions with Mrs.
1arbara Castle in April and July. In these he Minister made clear her reluctance to ield control of investment planning to a Lew "BTC" but said she was determined o achieve real, and not just formal, inte;ration. She said it was clearly necessary to veld BRS and the BR cartage service ogether, that there would have to be many nore acquisitions of road haulage underakings but that "she did not propose to lationalize the whole of road haulage".
The Minister said she was not in favour of 'appearing to force" traffic to use the pub icly-owned facilities, but the TUC con.ended in reply that "such licensing changes would have to be an integral part of the policy which the Minister was trying to pursue."
New Cost Tables
AS detailed in pages 69-71 of this issue, the 50th edition of the COMMERCIAL MOTOR Tables cof Operating Costs is published this week. It is obtainable from George Newnes Ltd., Tower House, Southampton Street, London, WC2, price 6s. (6s. 7d. postage paid) or through any newsagent.
This new edition takes account of the many changes affecting the cost of operating both goods and passenger vehicles which have occurred over the past 12 months. Additionally, in the table of fuel costs provision is made to facilitate any adjustment necessary as a result of the 10 per cent surcharge on the duty on fuel announced on July 20, 1966.
The report records that the main transport unions, at a meeting in June, expressed strong support for TUC's approach and the latter body later told Mrs. Castle that they hoped she would not tie herself too rigidly to the plan for the NFA, which, as it stood, could cause considerable problems for the unions involved.