'Not the hauliers who are on trial' says advocate
26th August 1966
Page 28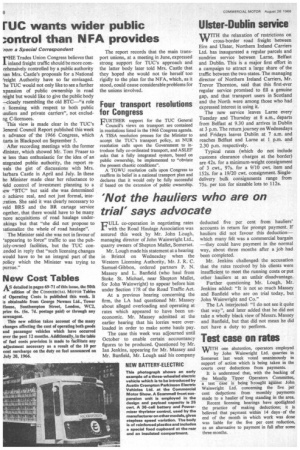 Page 28, 26th August 1966 —
'Not the hauliers who are on trial' says advocate
Close
'CULL co-operation in negotiating rates I' with the Road Haulage Association was assured this week by Mr. John Lough, managing director of John Wainwright Ltd., quarry owners of Shepton Mallet, Somerset.
Mr. Lough made his statement at a hearing in Bristol on Wednesday when the Western Licensing Authority, Mr. J. R. C. Samuel-Gibbon, ordered partners P. N. Massey and L. Banfield (who haul from Stoke St. Michael, near Shepton Mallet, for John Wainwright) to appear before him under Section 178 of the Road Traffic Act.
At a previous hearing concerning the firm, the LA had questioned Mr. Massey about alleged overloading and operating at rates which appeared to have been uneconomic. Mr. Massey admitted at the earlier hearing that his lorries were overloaded in order to make some hauls pay.
The case this week was adjourned until October to enable certain accountancy figures to be produced. Questioned by Mr. Ian Jenkins, appearing for Mr. Massey and Mr. Banfield, Mr. Lough said his company NEW BATTERY-ELECTRIC
This photograph shows an early example of a three-wheeled electric vehicle which is to be introduced by Austin Crompton Parkinson Electric Vehicles Ltd. at the Commercial Motor Show. A Seammen front suspension unit is employed in the design and payload capacity is 25 cwt. A 36-cell battery and Powermiser thyristor control, used by the manufacturer on other models. gives stepless speed variation. The body is of reinforced plastics and includes a special food cupboard at the rear and an insulated compartment. deducted five per cent from hauliers' accounts in return for prompt payment. If hauliers did not favour this deduction— which many felt was a commercial bargain —they could have payment in the normal way, about three months after a job had been completed.
Mr. Jenkins challenged the accusation that the rates received by his clients were insufficient to meet the running costs or put other hauliers at an unfair disadvantage.
Further questioning Mr. Lough, Mr. Jenkins added: "It is not so much Massey and Banfield who are on trial today, but John Wainwright and Co."
The LA interjected: "I do not see it quite that way", and later added that he did not take a wholly black view of Messrs. Massey and Banfield, but that did not mean he did not have a duty to perform.