Containerway service extended
26th August 1966
Page 27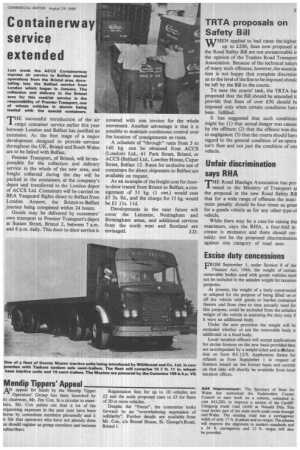 Page 27, 26th August 1966 —
Containerway service extended
Close
Last week the ACCS Containerway express air service to Belfast started operations from the Bristol area, dovetailing into the Belfast service from London which began in January. The collection and delivery in the Bristol area for this road/Sir service is the responsibility of Premier Transport, one of whose vehicles is shown being loaded with the special containers.
THE successful introduction of the air cargo container service earlier this year between London and Belfast has justified an extension. As the first stage of a major development designed to provide services throughout the UK, Bristol and South Wales are to be linked with Belfast.
Premier Transport, of Bristol, will be responsible for the collection and delivery service in the whole of the new area, and freight collected during the day will be packed in the containers at the company's depot and transferred to the London depot of ACCS Ltd. Containers will be carried on BEA Vanguard flights direct to Belfast from London Airport, the Bristol-to-Belfast journey being completed within 24 hours.
• Goods may be delivered by customers' own transport to Premier Transport's depot at Sussex Street, Bristol 2, between 7 a.m. and 6 p.m. daily. This door-to-door service is covered with one invoice for the whole movement. Another advantage is that it is possible to maintain continuous control over the location of consignments en route.
A schedule of "through" rates from 5 to 140 kg. can be obtained from ACCS (London) Ltd., 61 Park Street, Bristol, or ACCS (Belfast) Ltd., Lawther House, Cupar Street, Belfast 13. Rates for exclusive use of containers for direct shipments to Belfast are available on request.
As an example of the freight cost for doorto-door transit from Bristol to Belfast, a consignment of 51 kg. (1 cwt.) would cost £5 3s. 9d., and the charge for 13 kg. would be £1 lls. lid.
Developments in the near future will cover the Leicester, Nottingham and Birmingham areas, and additional services from the north west and Scotland are envisaged. J.D.