Hands trailer exhibits at Show
26th August 1966
Page 26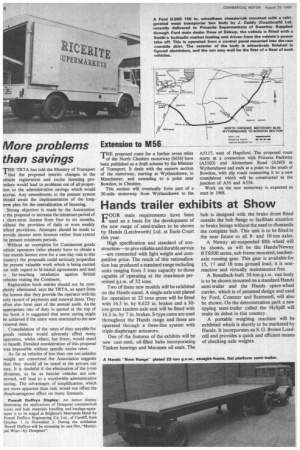 Page 26, 26th August 1966 —
Hands trailer exhibits at Show
Close
UOUR main requirements have been used as a basis for the development of the new range of semi-trailers to be shown by Hands (Letchworth) Ltd. at Earls Court this year.
High specification and standard of construction—to give reliable and durable service —are connected with light weight and competitive price. The result of this rationalization has produced a standard range including units ranging from 3 tons capacity to those capable of operating at the maximum permitted g.t.w. of 32 tons.
Two of these new models will be exhibited on the Hands stand. A single-axle unit plated for operation at 22 tons gross will be fitted with 16.5 in. by 8.625 in. brakes and a 30ton-gross tandem-axle unit will be fitted with 16.5 in. by 7 in. brakes. S-type cams are used throughout the Hands range and these are operated through a three-line system with triple-diaphragm actuators.
One of the features of the exhibits will be new cast-steel, oil-filled hubs incorporating Timken bearings and Mecanex oil seals. The hub is designed with the brake drum fitted outside the hub flange to facilitate attention to brake linings without the need to dismantle the complete hub. This unit is to be fitted in the near future to all 8and 10-ton axles.
A Neway air-suspended fifth wheel will be shown, as will be the Hands/Neway RTS500 series, sub-frame-mounted, tandemaxle running gear. This gear is available for 15, 17 and 18 tons ground load; it is nonreactive and virtually maintenance free.
A Bonallack-built 30-ton-g.t.w. van body is to be shown mounted on a standard Hands semi-trailer and the Hands spare-wheel carrier, which is of patented design and used by Ford, Commer and Scatrunell, will also be shown. On the demonstration park a new tipping semi-trailer called the HySpill will make its debut in this country.
A portable weighing machine will be exhibited which is shortly to be marketed by Hands. It incorporates an S. G. Brown Loadcell and provides a quick and efficient means of checking axle weights.