Goods ransport
26th August 1966
Page 24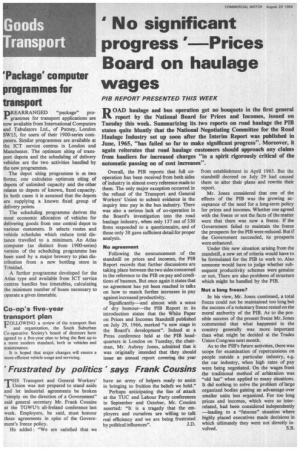 Page 24, 26th August 1966 —
Goods ransport
Close
'Package' computer programmes for transport
DREARRANGED "package" proI grammes for transport applications are now available from International Computers and Tabulators Ltd., of Putney, London SW15, for users of their 1900-series computers. Similar programmes are available at the ICT service centres in London and Manchester. The optimum siting of transport depots and the scheduling of delivery vehicles are the two activities handled by the new programmes.
The depot siting programme is in two forms; one calculates optimum siting of depots of unlimited capacity and the other relates to depots of known, fixed capacity. In both cases it is assumed that the depots are supplying a known fixed group of delivery points.
The scheduling programme derives the most economic allocation of vehicles for delivering goods from one central depot to various customers. It selects routes and vehicle schedules which reduce total distance travelled to a minimum. An Atlas computer (as distinct from 1900-series) version of the scheduling programme has been used by a major brewery to plan distribution from a new bottling store in Trinidad.
A further programme developed for the Atlas type and available from ICT service centres handles bus timetables, calculating the minimum number of buses necessary to operate a given timetable.