Battle of wits
26th August 1966
Page 23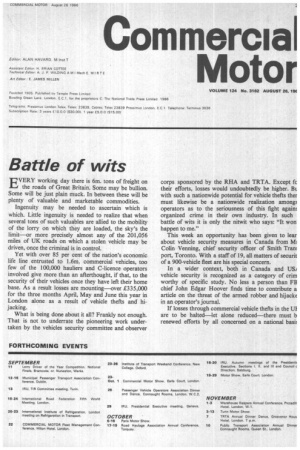 Page 23, 26th August 1966 —
Battle of wits
Close
EVERY working day there is 6m. tons of freight on the roads of Great Britain. Some may be bullion. Some will be just plain muck. In between these will be plenty of valuable and marketable commodities.
Ingenuity may be needed to ascertain which is which. Little ingenuity is needed to realize that when several tons of such valuables are allied to the mobility of the lorry on which they are loaded, the sky's the limit—or more precisely almost any of the 201,056 miles of UK roads on which a stolen vehicle may be driven, once the criminal is in control.
Yet with over 85 per cent of the nation's economic life line entrusted to 1.6m. commercial vehicles, too few of the 100,000 hauliers and C-licence operators involved give more than an afterthought, if that, to the security of their vehicles once they have left their home base. As a result losses are mounting—over 1335,000 for the three months April, May and June this year in London alone as a result of vehicle thefts and hijacking.
What is being done about it all? Frankly not enough. That is not to underrate the pioneering work undertaken by the vehicles security committee and observer corps sponsored by the RHA and TRTA. Except fc their efforts, losses would undoubtedly be higher. Bi. with such a nationwide potential for vehicle thefts ther must likewise be a nationwide realization amongE operators as to the seriousness of this fight agaim organized crime in their own industry. In such battle of wits it is only the nitwit who says: "It won happen to me."
This week an opportunity has been given to lear about vehicle security measures in Canada from Mi Colin Venning, chief security officer of Smith Tram port, Toronto. With a staff of 19, all matters of securit of a 900-vehicle fleet are his special concern.
In a wider context, both in Canada and US2 vehicle security is recognized as a category of crim worthy of specific study. No less a person than FE chief John Edgar Hoover finds time to contribute a article on the threat of the armed robber and hijackt in an operator's journal.
If losses through commercial vehicle thefts in the UI are to be halted—let alone reduced—there must b renewed efforts by all concerned on a national basi5