AN OIL-FUEL FILTER
26th August 1955
Page 66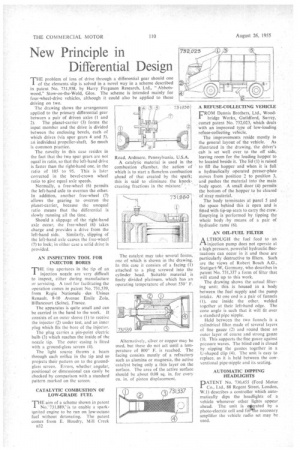 Page 66, 26th August 1955 —
AN OIL-FUEL FILTER
Close
ALTHOUGH the fuel feed to an injection pump does not operate at a high pressure, powerful hydraulic fluctuations can occur in it and these are particularly destructive to filters. Such are the views of Robert Bosch A.G., Stuttgart-W, Germany, who describes in patent No. 731,337 a form of filter that will stand up to this work.
The drawing shows the actual filtering unit; this is housed in a body between the fuel supply and the pump intake. At one end is a pair of funnels (1), one inside the other, welded together at their left-hand edge. The cone angle is such that it will fit over a standard pipe nipple.
Held between the two funnels is a cylindrical filter made of several layers of fine gauze (2) and round these an outer layer of coarse and strong gauze (3). This supports the fine gauze against pressure waves. The blind end is closed by nipping the gauzes together in a 11-shaped Clip (41. The unit is easy to replace, as it is held between the conventional pipe-nipple and its seating.