Petrol Engines Aid By Ashley Taylor, A.M.I.R.T.E.
26th August 1955
Page 44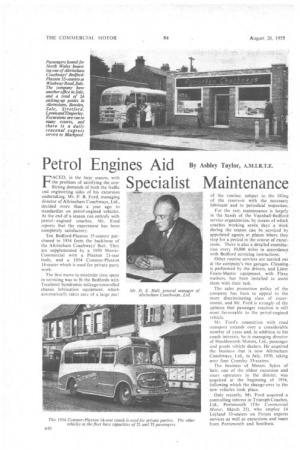 Page 45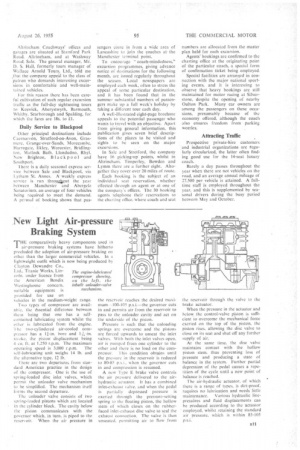 Page 44, 26th August 1955 —
Petrol Engines Aid By Ashley Taylor, A.M.I.R.T.E.
Close
Specialist Maintenance
FACED, in the busy season, with the problem of satisfying the conflicting demands of both the traffic and engineering sides of his excursion undertaking, Mr. F. B. Ford, managing director of Altrincham Coachways, Ltd., decided more than' a year ago to standardize on petrol-engined vehicles. At the end of a season run entirely with petrol engined coaches, Mr. Ford reports that the experiment has been completely satisfactory.
Ten Bedford-Plaxton 35-seaters purchased in 1954 form the backbone of the Altrincham Coachways' fleet. They are supplemented by a 1950 MorrisCommercial with a Plaxton 21-seat body, and a 1954 Commer-Plaxton 14-seater which is used for private party work.
The first move to minimize time spent in servicing was to fit the Bedfords with Tecalernit Syndromic mileage-controlled chassis lubrication equipment, which automatically takes care of a large part of the routine, subject to the filling of the reservoir with the necessary lubricant and to periodical inspection.
For the rest, maintenance is largely in the hands of the Vauxhall-Bedford Service organization, by means of which coaches working seven days a week during the season can be serviced by appointed agents at places where they stop for a period in the course of excursions. There is also a detailed examination every 10,000 miles in accordance with Bedford servicing instructions.
Other routine services are carried out at the company's two garages. Cleaningis performed by the drivers, and Lister Foam-Master equipment, with Flexy washers, has been installed to assist them with their task.
The sales promotion policy of the company has been to appeal to the more discriminating class of excursionist, and Mr. Ford is strongly of the opinion that passenger reaction is still most favourable to the petrol-engined vehicle.
Mr. Ford's connection with road transport extends over a considerable number of years and, in addition to his coach interests, he is managing director of Houldsworth Motors, Ltd" passenger and goods vehicle dealers. He acquired the business that is now Altrincham Coachways, Ltd,, in July, 1950, taking over four Crossley 33-seaters.
The business of Messrs. Sykes of Sale, one of the oldest excursion and tours operators in the district, was acquired at the beginning of 1954, following which the change-over to the new vehicles took place.
Only recently, Mr. Ford acquired a controlling interest in Triumph Coaches, Ltd., Portsmouth (The Commercial Motor, March 25), who employ 14 Leyland 33-seaters on Forces express services as well as excursions and tours from Portsmouth and Southsea.
Altrincham Coachways' offices and garages are situated at Stamford Park Road, Altrincham, and at Washway Road, Sale. The general manager, Mr. D. S. Hall, formerly tours manager of Wallace Arnold Tours, Ltd., told roe ,that the company appel to the class of patron who demands interesting excursions in comfortable and well-maintained vehicles.
For this reason there has been careful cultivation of such regular excursion traffic as the full-day sightseeing tours to Keswick, Aberystwyth, Barmouth, Whitby. Scarborough and Spalding, for which the fares are 18s. to IL
Daily Service to Blackpaol
Other principal destinations include Caernarvon, Stratford-on-Avon, Grasmere, Grange-over-Sands, Morecambe, Harrogate, Ilkley, Worcester, Bridlington, Matlock Bath, Llandudno, Rhyl, New Brighton, B la ck o ol and South port.
There is a daily seasonal express service between Sale and Blackpool, via Lytham St. Annes. Aweekly express service is run througivout the year between Manchester and Abergele Sanatorium, an average of four vehicles being required to meet the demand. A perusal of booking shows that pas
sengers cOme in from a wide area of Lancashire to join the coaches atthe Manchester terminal point.
To encourage "coach-mindedness," excursion programmes, giving advance notice of destinations for the following month, arc issued regularly throughout the season. Local newspapers are employed each week, often to stress the appeal of some particular destination, and it has been found that in the summer substantial numbers of passengers make up a full week's holiday by taking a different tour each day.
A well-illustrated eight-page brochure appeals to the potential passenger who wants to travel with an objective. Apart from giving general information, this publication gives seven brief descriptions of the places to be visited and sights to be seen on the major excursions.
In Sale and Stretford, the company have 16 picking-up points, whilst in Altrincham, Timperley, Bowden and Lymm there are a further eight. Altogether they cover over 20 miles or route.
Each booking is the subject of an individual seat reservation, whether effected through an agent or at one of the conmaa}.s offices. The 30 booking agents telephone their reservations to the charting office, where coach and scat
numbers are allocated from the master plan held for each excursion.
Agents' bookings are confirmed to the charting office at the originating point of the particular coach, a special form of confirmation ticket being employed, • Special facilities are arranacd in connection with the major national sporting events, and it is interesting to observe that heavy bookings are still maintained for motor racing at Silverstone, despite the opening of nearby Oulton Park. Many car owners are among the passengers on these occasions, presumably because of the economy offered, although the coach also ensures freedom from• parking worries.
Attracting Traffic
Prospective private-hire customers and industrial organizations arc regularly circularized, the latter often finding good use fOr the 14-seat luxury coach.
Barely a day passes throughout the year when there are not vehicles on the road, and an average annual mileage of 27,500 per vehicle is attained. A fulltime staff is employed throughout the year, and this is supplemented by seasonal drivers during the busy period between May and October.