Meat Traders Like Rail Service
26th August 1955
Page 41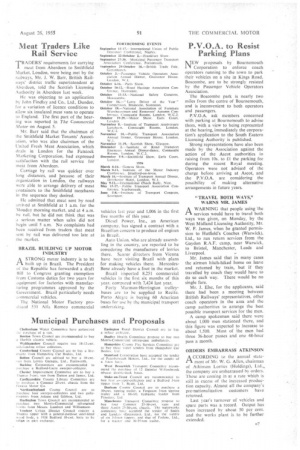 Page 41, 26th August 1955 —
Meat Traders Like Rail Service
Close
TRADERS' requirements for carrying
meat from Aberdeen to Smithfield Market, London, were being .met by the railways, Mr. J. W. Barr, British Railways' district traffic superintendent at Aberdeen, told the Scottish Licensing Authority in Aberdeen last week.
He was objecting to an application by John Findlay and Co., Ltd., Dundee, for a variation of licence conditions to allow six insulated meat vans to operate to England. The first part of the hearing was reported in The Commercial Motor on August 5.
Mr. Barr said that the chairman of the Smithfield Market Tenants' Associ:ition, who was also chairman of the United Fresh Meat Association, which deals in London for the Fatstock Marketing Corporation, had expressed satisfaction with the rail service for meat from Aberdeen.
Carriage by rail was quicker over long distances, and because of their organization in Loncron, the railways were able to arrange delivery of meat containers to the Smithfield merchants in the sequence they desired.
He admitted that meat sent by road arrived at Smithfield at I a.m. for the Monday morning market, and at 4 a.m. by rail, but he did not think that was a serious matter when sales did not begin until 5 am. No complaints had been received from traders that meat ent by rail was delivered too late at the market.
BRAZIL BUILDING UP MOTOR INDUSTRY
A STRONG motor industry is to be PI, built up in Brazil. The President of the Republic has forwarded a draft Bill to Congress granting exemption frOM Customs duties for two years for equipment for factories with manufacturing programmes approved by the Government. Brazil particularly needs commercial vehicles.
The National Motor Factory produced 531 Alfa Romeo commercial vehicles last year and 1,006 in the first five months of this year.
Diesel Power, Inc., an American company, has signed a contract with a Brazilian concern to produce oil engines in Brazil.
Auto Union, who are already assembling in the country, are reported to be considering the manufacture of lorries there. Sourer directors from Vienna have been visiting Brazil with plans for making vehicles there. MercedesBenz already have a foot in the market.
Brazil imported 8,251 commercial vehicles in the first six months of this year. compared with 7,424 last year.
Forty Marmon-Herrington trolleybuses are to be supplied to Recife. Porto Alegre is buying 60 American buses for use by the municipal transport undertaking,