New Duple Body : Range Improved
26th August 1955
Page 39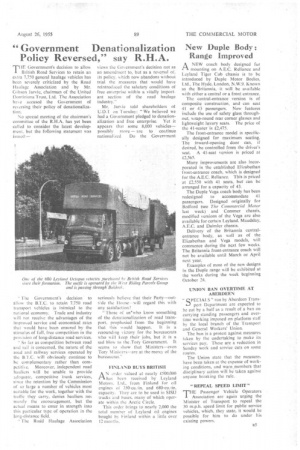 Page 39, 26th August 1955 —
New Duple Body : Range Improved
Close
A NEW coach body designed for PA mounting on A.E.C. Reliance and Leyland Tiger Cub chassis is to be introduced by Duple Motor Bodies, Ltd., The Hyde, London, N.W.9. Known as the Britannia, it will be available with either a central or a front entrance.
The central-entranceversion is of composite construction, and can seat 41 or 43 passengers. New features include the use of safety glass throughout, wrap-round rear corner glasses and lightweight luxury seats. The price of the 41-seater is £2,475.
The front-entrance model is specifically designed for maximum seating. The inward-opening door can, if desired, be controlled from the driver's seat. A 41-seat version is priced at £2,565.
Many improvements are also incorporated in the established Elizabethan front-entrance coach, which is designed for the A.E.C. Reliance. This is priced at £2,550 with 41 seats, but' can be arranged for a capacity of 43.
The Duple Vega coach body has been redesigned to accommodate 41 passengers. Designed originally for Bedford (see The Commercial Motor last week) and Commer chassis, modified versions of the Vega are also available for certain Leyland, Maudslay, A.E.C. and Daimler chassis.
Delivery of the Britannia centralentrance body, as well as of the Elizabethan and Vega models, will commence during the next few weeks. The Britannia front-entrance coach will not be available until March or April next year. Examples of most of the new designs in the Duple range will be exhibited at the works during the week beginning October 24.
UNION BAN OVERTIME AT ABERDEEN
" SPECIA1.S" run by Aberdeen Transport Department are expected to be cut by a half as a result of a ban on carrying standing passengers and overtime working imposed on platform staff by the local branch of the Transport and General Workers' Union.
The ban is a protest against measures taken by the undertaking to make its services pay. These are a reduction in Sunday work and service cuts on some routes.
The Union state that the measures have been taken at the expense of working conditions, and warn,members that disciplinary action will be taken against anyone breaking the rule.
"REPEAL SPEED LIMIT"
THE Passenger Vehicle Operators I Association are again urging the Minister of Transport to repeal the 30 m.p.h. speed limit for public service vehicles, which, they state, it would be possible for him to do under his existing powers.