"Government Denationalization Policy Reversed," say R.H.A.
26th August 1955
Page 39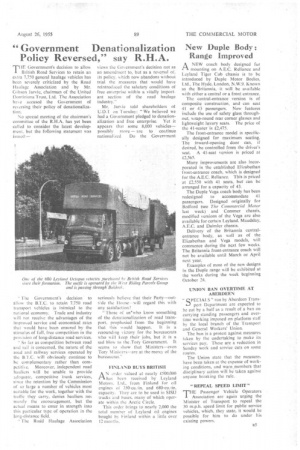 Page 39, 26th August 1955 —
"Government Denationalization Policy Reversed," say R.H.A.
Close
THE Governments decision to allow British Road Services to retain an extra 7,750 general haulage vehicles has been severely criticized by the Road Haulage Association and by Mr. Gibson larvie, chairman of the United Dominions Trust, Ltd. The Association have accused the Government of reversing their policy of denationalization.
No special meeting of the chairman's committee of the R.H.A. has yet been called to consider the latest development, but the following statement was issued:— The Government's decision • to allow the B.T.C. to retain 7,750 road transport vehicles is inimical to the national economy. Trade and industry will not receive the advantages of the improved service and economical rates that would have been ensured by the stimulus of full, free competition in the prov ision of long-distance road services.
"So far as competition between road and rail is concerned, the nature of the road and railway services operated by the B.T.C. will obviously continue to be complementary rather than competitive. Moreover, independent road hauliers will be unable to provide adcquate, competitive trunk services, since the retention by the Commission of so large a number of vehicles most suitable for the work, together with the traffic they carry, denies hauliers noi merely the encouragement, but the actual means to enter in strength into this particular type of operation in the long-distance field.
The Rod Haulage Association views the Government's decision not as an amendment to, but as a reversal of, its policy, which now abandons without trial the measures that would have reintroduced the salutary conditions of free enterprise within a vitally important section of the road haulage industry."
Mr. Jarvie told shareholders of ILD.T on Tuesday: "We believed we had a Government pledged to denationalization and free enterprise: Yet it appears that some 8,000 vehicles— possibly more — are to continue nationalized. Do the Government seriously believe that their Party--outii:vie the flouse--will regard this with any satisfaction?
"Those of newho know something of the denationalization of road transport, prophesied from the beginning that this voul.cl happen. It is a resounding v ictory for the bureaucrats who will keep their jobs, but it is a sad blow to the Tory Government. It seems to show that Ministers—even Tory Ministers—are at the mercy of the bureaucrat." " FINLAND BUYS BRITISH
AN order valued at nearly £500,000 has heen received by .Leyland Motors. Ltd., from Finland for oil engines of 350-cu.-in. and 680-cu.-in. capacity. They arc to be used in SISU trucks and buses, many of which operate within the Arctic Circle.
This order brings to nearly 2,000 the total number of Leyland oil engines bought by Finland within a little over 12 months.